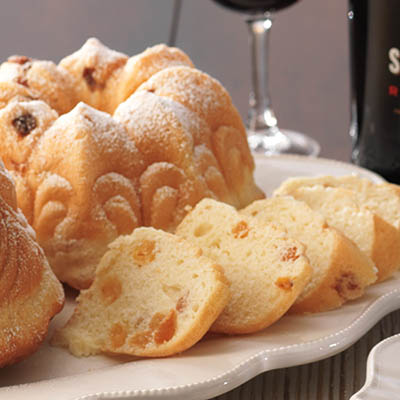 Ingredients
Serves 4 to 6
¼ cup (60 ml) kirsch or rum
¼ cup (60 ml) boiling water
1½ tsp (7 ml) active dry yeast
2 tbsp (30 ml) warm water (110 F or 40 C))
1 cup (250 ml) whole milk
¼ lb (125 g) unsalted butter, cubed
3 ¾ cups (925 ml) all-purpose flour
1 tsp (5 ml) finely grated orange zest
Instructions
Preheat oven to 400 F (200 C). In a small bowl, soak raisins in kirsch or rum and boiling water for 30 minutes to 1 hour. Strain, discarding any remaining liquid.
Stir together yeast and water and let stand until foamy, 5 to 10 minutes.
Heat milk with butter, reserving 1 tbsp (15 ml), and sugar over low heat, stirring until mixture is warm and butter is melted and sugar has dissolved.
Sift together flour and salt into a mixing bowl. Make a well in middle of the flour and add yeast mixture. Add warm milk mixture in a slow stream, mix using an electric mixer at low speed. Increase speed to medium and beat in eggs one at a time. When mixed through, beat in drained raisins and orange zest. Continue to beat until dough is smooth and elastic, about 4 to 5 minutes.
Butter a kugelhoph mould (or bundt pan) with remaining butter, then scrape spoonfuls of dough evenly into mold. Cover top with oiled plastic wrap and a kitchen towel and let dough rise in a warm, draft-free place until it fills the baking mould, about 2 hours.
Remove towel and gently peel off plastic wrap. Bake in the middle of the oven for 15 minutes, then loosely cover mould with foil and continue to bake until golden and a skewer inserted in the middle comes out clean, 20 to 25 minutes more.
Remove from oven and cool in mould 2 minutes, then invert onto a rack to cool completely, about 1 hour. Dust with icing sugar.
Drink Pairings