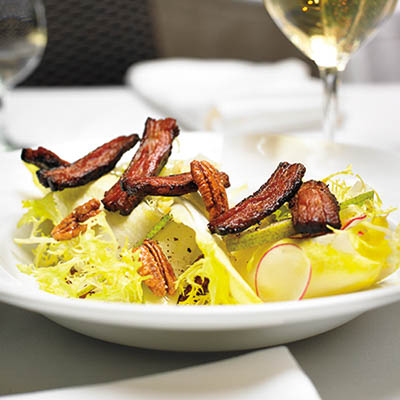 LAMB BACON SALAD WITH BOURBON VINAIGRETTE
Ingredients
Serves 4
4 lbs (2 kg) lamb belly ribs, boned and fat trimmed
1 x 250 ml can Tropical Red Bull
1 x 355 ml can tonic water
3½ tbsp (100 g) Thai yellow curry paste
2 tbsp (30 ml) Sambal Oelek
2 cups (500 g) raw brown sugar
2 cups (500 g) kosher salt
1 tbsp (15 ml) pink curing salt
2 tbsp (30 ml) Ras al Hanout spice
2 tbsp (30 ml) curry powder
1 tbsp (15 ml) cayenne pepper
2 cups (500 ml) hickory, maple or oak chips, soaked and drained, plus extra if needed
12 cups (3 L) oil (vegetable, peanut or corn oil)
¼ cup (60 ml) grapeseed oil
2 tbsp (30 ml) apple cider vinegar
1 tbsp (15 ml) maple syrup
freshly ground black pepper
3 heads Belgian endive, separated into leaves
3 to 4 heads frisée lettuce, white parts only
6 large radishes, thinly sliced on a mandoline
1 bunch watercress, leaves only
1 fresh pear,,cored and sliced
½ cup (125 ml) candied pecan halves
¾ cup (175 ml) grated or crumbled gouda
Instructions
To make LAMB BACON: In a bowl combine Red Bull, tonic water, curry paste and Sambal Oelek. Stir to blend. Roll lamb in mixture to thoroughly cover, then transfer lamb and sauce into a tightly covered plastic container. Refrigerate for 1 to 3 days.
Once lamb has marinated for required time, combine sugar and remaining spices in a bowl. Stir to blend. Rinse off lamb and blot dry with paper towel. Completely coat with dry spice mixture and place seasoned lamb in a single layer in a container distributing any excess mixture underneath and on top of meat. Tightly seal and refrigerate for another 2 to 3 days.
After 2 or 3 days, thoroughly rinse lamb in cold running water and blot dry with paper towel. Lamb is now ready to be smoked. If you do not have a smoker, lamb can be smoked on gas grill. Place soaked and drained wood chips in a disposable aluminum pan, remove grate from barbecue and place pan with chips in upper corner of the grill so it rests directly on heat source. Replace grate and preheat grill, covered, with all burners on high for 15 to 20 minutes. Then turn off middle burners and place lamb in a single layer on middle grate, away from heat. Close barbecue lid. Smoke lamb for about 2 hours at 220 F (105 C). Add a few more soaked wood chips to metal pan if needed. Keep a spray bottle with water handy in case wood chips flare up. Remove lamb and cool on a rack. Slice into thin strips like bacon and pan fry until cooked as desired. Refrigerate any extra uncooked lamb bacon for up to 4 or 5 days or freeze up to 1 month.
To make CANDIED PECANS: Add oil to a large saucepan (should have at least half of pan volume left) or a home deep fryer heated to 350 F (180 C). Set aside. In another large saucepan filled half way with water, bring to rapid boil, add pecan halves and boil for 4 to 5 minutes. Remove from heat and strain water out then immediately place pecans in large mixing bowl and add icing sugar. Place nuts in wire drop basket, then place in oil and allow to fry for 5 minutes. Take pecans out and add to clean mixing bowl and toss with salt and cayenne (add slowly to avoid clumps). Place on an unlined aluminum baking sheet and allow to cool for at least 10 minutes before touching. They will be hot!
Combine all BOURBON VINAIGRETTE ingredients in a bowl. Whisk to blend. Refrigerate in a tightly covered container up to several days. (Makes about 1¼ cups (300 ml) dressing and is only suitable for Lamb Bacon Salad.)
Combine SALAD ingredients in a large bowl. Gently toss together with ½ cup (125 ml) Candied Pecans and the Bourbon Vinaigrette to lightly coat. Serve on individual salad plates with 4 or 5 crisp pieces of cooked Lamb Bacon on top.
Drink Pairings