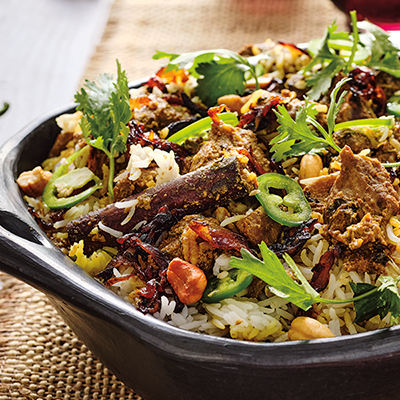 Ingredients
Serves 4-5
2 lbs (907 g) boneless lamb shoulder, cut into 2-in (5 cm) cubes
1 cup (250 ml) full-fat plain yogurt
3 tbsp (45 ml) finely grated garlic
3 tbsp (45 ml) finely grated ginger
1 tbsp (15 ml) kosher salt, plus extra for boiling
2 tsp (10 ml) finely ground black pepper
3 large yellow onions, finely sliced
3 fresh green chilies: 2 halved; 1 thinly sliced, for garnish; divided (or to taste)
1 tsp (5 ml) ground cumin
1 tsp (5 ml) ground coriander
1 tsp (5 ml) chili powder, or to taste
1 tsp (5 ml) garam masala
1 tsp (5 ml) tomato paste
1 cup (250 ml) chicken stock
2 cups (500 ml) basmati rice
½ cup (125 ml) roughly chopped cilantro leaves and stems, divided
2 tbsp (30 ml) crushed roasted cashews
Instructions
The night before cooking, in a large zip-top bag or covered bowl, mix together lamb, yogurt, garlic, ginger, salt and pepper, and marinate in refrigerator overnight.
In a large Dutch oven, heat ghee over low heat and add onions. Cook, stirring often, until they are caramelized and dark brown, about 20 to 25 minutes.
Remove half the onions and set aside. Add halved fresh chilies, cardamom, cinnamon, bay leaves, cumin, coriander, chili powder and garam masala. Mix and continue cooking until spices are fragrant, about 1 to 2 minutes.
To the Dutch oven, add lamb and all its marinade, tomato paste and chicken stock. Increase heat to high and bring to a boil. Reduce heat to low and simmer for 30 to 40 minutes, until lamb is tender. Once tender, remove lid, increase heat to medium-high and simmer until liquid has reduced to sauce consistency, about 5 to 10 minutes.
Meanwhile, preheat oven to 350 F (180 C).
In a medium saucepan, heavily salt 4 cups (1 L) water and bring to a boil. Add rice, boil for 2 minutes, then drain in a fine mesh sieve.
Add ¼ cup (60 ml) cilantro to lamb and mix until combined. Pour rice over lamb and spread rice in an even layer. Cover with foil then place Dutch oven lid on top. Transfer to oven and bake for 20 minutes. Remove from oven and let sit, covered, for 5 minutes.
To serve, fluff rice with a fork or transfer to a platter. Garnish with remaining ¼ cup (60 ml) cilantro, remaining caramelized onions, sliced chili and cashews.
Drink Pairings