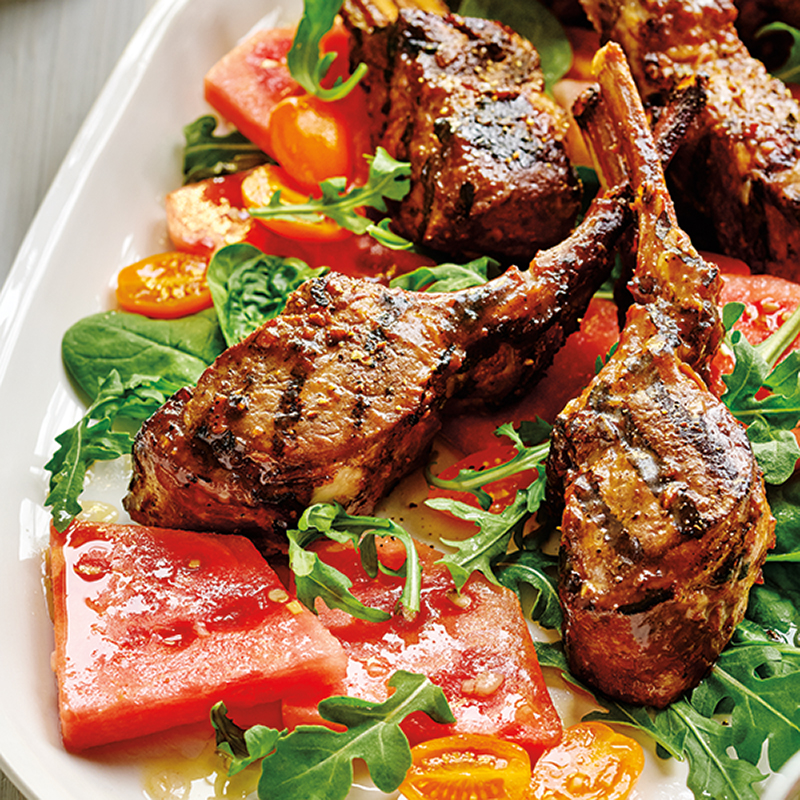 LAMB CHOPS WITH PICKLED WATERMELON SALAD
Ingredients
Serves 6-8
½ cup (125 ml) light brown sugar
½ cup (125 ml) low sodium soy sauce
¼ cup (60 ml) unseasoned rice vinegar
3 green onions, trimmed and thinly sliced
2 tbsp (30 ml) grated ginger
¼ cup (60 ml) packed cilantro leaves and tender stems
1 tbsp (15 ml) sambal oelek
1 tbsp (15 ml) sesame oil
1 tsp (5 ml) freshly ground black pepper, plus extra to taste
2 racks of lamb, frenched, about 2 lbs (1 kg) total
¼ cup (60 ml) Dijon mustard
1/3 cup (75 ml) white wine vinegar
½ tsp (2.5 ml) ground coriander
2 tbsp (30 ml) fresh lime juice
1 small shallot, finely chopped
1 tsp (5 ml) clover honey
¼ cup (60 ml) extra-virgin olive oil
¼ cup (60 ml) grapeseed oil
3 lbs (1.5 kg) chopped into triangles, peeled, seedless watermelon
4 cups (1 L) yellow cherry tomatoes, halved
2 cups (500 ml) packed baby greens of choice (arugula, spinach or kale are all good options)
Instructions
Start recipe a day ahead by marinating lamb. To make marinade, in a small saucepan stir together brown sugar and ½ cup (125 ml) water over medium-high heat until sugar has melted and mixture is at a strong simmer, about 4 minutes. Lower heat to medium and let mixture simmer until reduced to ¼ cup (60 ml). Remove saucepan from heat and whisk in soy sauce, rice vinegar, green onions, garlic, ginger, cilantro, sambal oelek, sesame oil and pepper. Set aside to cool to room temperature.
Once marinade has cooled, transfer to a large, resealable plastic bag. Brush lamb racks generously with mustard and add to marinade in bag. Place bag in a baking dish and refrigerate, turning occasionally, for at least 6 hours and up to 24 hours.
On the day you are ready to serve lamb, make Pickled Watermelon. In a medium bowl, whisk together vinegar, coriander, lime juice, shallot, honey and oils until well combined. Season vinaigrette to taste with salt and pepper.
Place watermelon in a large, non-reactive bowl and add ½ cup (125 ml) vinaigrette and gently toss to coat. Cover and refrigerate, stirring occasionally, for 1 hour to lightly pickle watermelon.
Preheat grill to medium-high heat.
Transfer lamb from bag, leaving some marinade clinging to surface, onto a cutting board. Cut racks into two-bone sections and set aside. Pour marinade from bag into a small saucepan and bring to a boil over high heat. Reduce heat to medium and let simmer for 3 minutes. Remove warm marinade from heat and set aside.
Grill lamb chops until grill marked, about 2 minutes per side. Using a brush, baste each meaty end of chop generously with reserved and warmed marinade. Return chops to grill and cook, turning once, until cooked to desired doneness, about another 2 to 4 minutes per side. Transfer to a platter.
Add tomatoes and baby greens to bowl of watermelon. Gently toss together and add 1 to 2 tbsp (15 to 30 ml) of vinaigrette, if needed. Season to taste with salt.
To serve, place two thirds of watermelon salad on a large platter, top with lamb and then with rest of watermelon salad. Serve any remaining vinaigrette alongside.
Drink Pairings