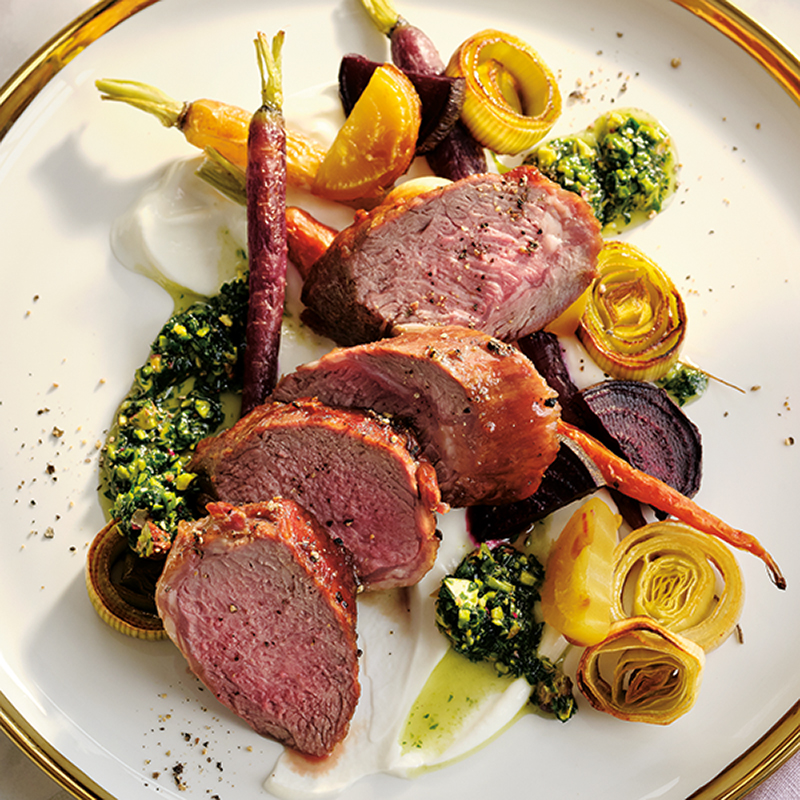 Lamb with Honey Pistachio Sauce, Smoked Yogurt & Roasted Vegetables
Ingredients
Serves Serves 4
12 to 16 small multicoloured carrots, tops trimmed off, well-scrubbed and halved if large
6 red and/or yellow baby beets, trimmed, well-scrubbed and sliced into ½-in (1.25 cm) rounds
kosher salt and freshly ground black pepper, to taste
3 tbsp (45 ml) olive oil, divided
2 leeks, root end and dark green part trimmed off,
cut into ½-in (1.25 cm) rounds
Smoked Yogurt*, make ahead, recipe follows
⅓ cup + ½ cup (75 + 125 ml) clover honey, divided
1 tbsp (15 ml) red wine vinegar, plus extra as needed
½ cup (125 ml) sliced pistachios, roughly chopped
1 cup (250 ml) packed flat-leaf parsley leaves and tender stalks, finely chopped
1 cup (250 ml) full-fat plain Greek yogurt
2 tbsp (30 ml) light brown sugar
2 tbsp (30 ml) long-grain rice
¼ cup (60 ml) woodchips, for smoking
Instructions
Preheat oven to 400 F (200 C).
Combine carrots and beets on a rimmed baking sheet. Season to taste with salt and pepper and toss with 2 tbsp (30 ml) oil. Roast for 20 minutes. Add leeks and stir vegetables, then return to oven and roast until golden and tender, another 15 to 20 minutes.
Heat remaining 1 tbsp (15 ml) oil in a large frying pan over medium-high heat. Generously season lamb loins, then add to frying pan. Cook, turning often, until slightly browned, about 2 minutes total. Reduce heat to medium and pour ⅓ cup (75 ml) honey over lamb. Continue cooking, turning and basting with honey frequently, until an instant-read thermometer inserted into lamb reads 130 F (54 C), about another 5 to 6 minutes. Remove lamb to a cutting board and let rest for 5 minutes before slicing.
Meanwhile, make the honey pistachio sauce. In a bowl, stir together remaining ½ cup (125 ml) honey, red wine vinegar, pistachios and parsley. Season to taste with salt and additional vinegar if desired.
To make smoked yogurt, place yogurt in a small, wide bowl set above another small bowl filled with ice. (This will help prevent yogurt from curdling as it smokes.) Line base of a wok with 2 pieces heavy-duty foil and add sugar, rice and woodchips. Set a wire rack inside wok. Turn on hood fan and place wok over high heat until contents start to smoke, about 5 minutes. Place 2 nested bowls on rack and cover wok with a lid or large metal bowl. Reduce heat to medium and smoke yogurt until it has a smoky flavour, about 8 to 10 minutes. Remove yogurt bowl from smoker and refrigerate until ready to use. * Can substitute 1 cup (250 ml) full-fat plain Greek yogurt with a few drops Liquid Smoke (available at most grocery stores) or smoked paprika stirred in, to taste.
To serve, swirl a good dollop of Smoked Yogurt on serving plates. Arrange lamb and roast vegetables over and around yogurt, then drizzle with honey pistachio sauce.
Drink Pairings