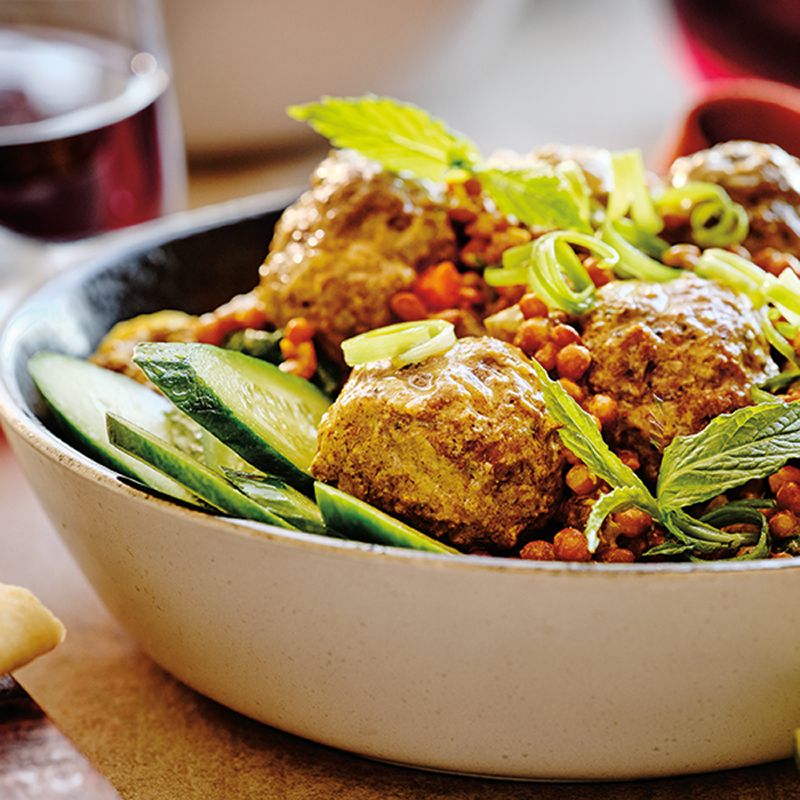 Lamb Meatball Korma with Lentils
With colder weather rolling in, autumn meals should be both warm and filling, a requirement met by meatballs.
Ingredients
Serves 4
1 large shallot, finely chopped
1 tsp (5 ml) kosher salt, plus extra
½ tsp (2.5 ml) ground cumin
1 tsp (5 ml) curry powder
2 tbsp (30 ml) ghee or grapeseed oil
2 celery stalks, finely chopped
1 medium carrot, finely chopped
2 x 15 oz (425 g) can lentils, drained and rinsed
½ cup (125 ml) white wine
¼ cup (60 ml) korma curry paste
1 x 14 oz (398 ml) can full fat coconut milk
1 lime, zest and juice, divided
2 cups (500 ml) packed spinach leaves
2 Persian cucumbers, thinly sliced on the bias
mint leaves, green onion curls and lime wedges, for garnish
naan bread, whole milk yogurt, to serve (optional)
Instructions
To make lamb meatballs, in a large bowl, add ground lamb, garlic, shallot, salt, dried mint, cumin, curry powder and egg. Mix with a fork until well combined. Roll about 1½ tbsp (22 ml) lamb mixture into a ball and set aside on a plate. Repeat with remaining lamb mixture.
In a large frying pan, heat ghee or grapeseed oil and, working in batches if necessary, sear meatballs until nicely browned all over, about 8 to 10 minutes. Transfer to a plate and set aside. Don't worry if meatballs are not cooked all the way through, they will finish cooking in sauce.
To make korma sauce with lentils, return frying pan from step 2 to medium heat. Add celery and carrots and cook, stirring often, until slightly softened, about 3 minutes. Add lentils, wine, korma curry paste, coconut milk and lime zest. Bring to a slow simmer, stirring occasionally. Add lamb meatballs and allow to gently cook in simmering sauce, stirring occasionally, until meatballs are cooked through and sauce has thickened slightly, about 5 minutes. Add spinach and stir in until slightly wilted. Remove frying pan from heat.
In a small bowl, toss together cucumbers with a pinch of salt and juice of 1 lime. Set aside.
To serve, divide lamb meatballs along with some sauce among warm serving bowls. Garnish with cucumber, mint leaves, green onion curls and lime wedges, if desired. Serve immediately. Suggested accompaniments to this dish are warm naan bread and creamy whole milk yogurt.
Drink Pairings