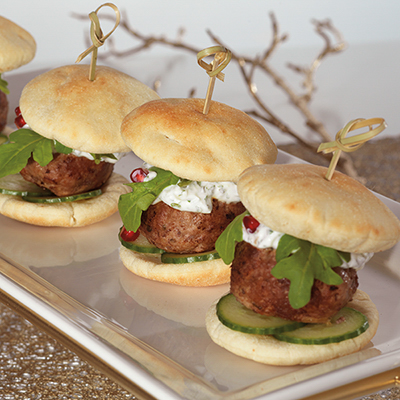 Ingredients
Serves 10 sliders
1 lb (500 ml) ground lamb
2 tbsp (30 ml) chopped fresh mint
2 tbsp (30 ml) grated yellow onion
1 tsp (5 ml) dried oregano
1 tsp (5 ml) salt, plus extra for seasoning
¾ cup (175 ml) thick Greek yogurt
1 tbsp (15 ml) red wine vinegar
1 pinch red pepper chili flakes
¼ cup (60 ml) fresh parsley, chopped
1 tbsp (15 ml) fresh oregano, chopped
1 green onion, trimmed, finely sliced
3 tbsp (45 ml) pomegranate seeds
20 small pita rounds or slider buns
½ English cucumber, thinly sliced
1 cup (250 ml) baby arugula
Instructions
In a large bowl, mix together lamb, mint, onion, garlic, oregano, salt, pepper and egg until well combined. Form ¼ cup (60 ml) portions of mixture into meatballs. Transfer to a plate and set aside.
In a medium bowl, whisk together yogurt, vinegar, red pepper chili flakes, parsley, oregano and green onion until well combined. Season to taste, fold in pomegranate seeds and refrigerate until ready to use.
In a large frying pan over medium-high heat, warm oil. Add meatballs and cook, turning often until browned all over, about 8 minutes total. Reduce heat to mediumlow and cook meatballs, again turning often, until desired doneness. About another 3 minutes for medium-well done.
To assemble sliders, dollop a bit of yogurt sauce on 1 pita round. Top with a couple slices of cucumber and a meatball. Dollop more sauce on another pita and press a few arugula leaves into sauce. Place sauce-side down on top of meatball. Secure slider with a toothpick if needed. Assemble remaining sliders and serve.
Drink Pairings