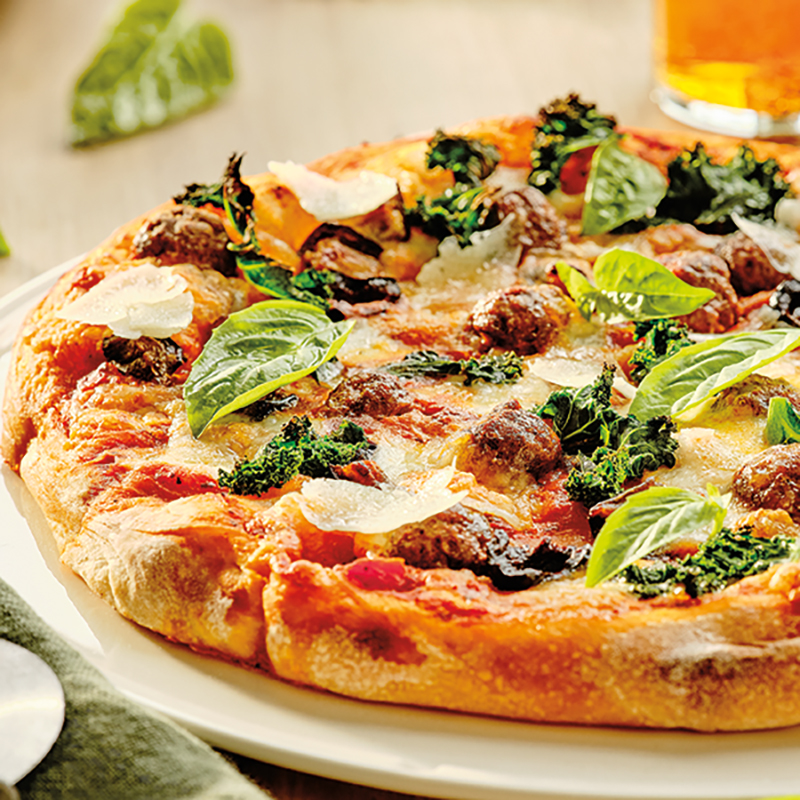 Lamb Merguez Pizza
Globally inspired lamb recipes
Ingredients
Serves 4
1⅓ cups (325 ml) warm water*
1 x 7 g package dry yeast
3½ cups (450 g) all-purpose flour, plus extra for dusting
2 tsp (10 ml) salt, divided
2 tbsp (30 ml) olive oil, plus extra to coat dough and meatballs
8 oz (225 g) lamb merguez sausages, casing removed
½ large eggplant, cut into 1-in (2.5 cm) cubes
vegetable oil, for frying
1 cup (250 ml) tomato sauce
½ head kale, cut into 1-in (2.5 cm) slices, blanched
8 dried black olives, roughly chopped
8 oz (225 g) fresh mozzarella
1 oz (30 g) Manchego cheese, shaved
Instructions
In a large mixing bowl, mix water, yeast and honey and let sit for 5 minutes. Add flour, 1 tsp (5 ml) salt and olive oil and mix to combine. Knead for 5 to 10 minutes, or until smooth. Cover with olive oil, return to mixing bowl and cover with plastic wrap. Let rise at room temperature for 1 to 1½ hours, or until doubled in size.
Meanwhile, preheat oven to 375 F (190 C). Roll merguez into tablespoon-sized balls (about 24 balls), lightly coat with olive oil and roast just until cooked through, about 10 minutes.
In a mixing bowl, toss eggplant in 1 tsp (5 ml) salt and mix. Let sit for 10 minutes. After 10 minutes, use a paper towel to remove any liquid from eggplant. Fill a medium-sized saucepan with 1-in (2.5 cm) vegetable oil and heat over medium-high heat. Fry eggplant in batches, until golden brown, and drain on paper towel. Set aside.
Once dough has risen, cut in half and roll each half into balls. Dust with flour and let sit on counter for 10 minutes to rest.
Roll or stretch a piece of dough to about a 10 to 12-in (25 to 30 cm) round and transfer to a parchment-lined 12 to 14-in (30 to 36 cm) pizza pan.
Cover dough with up to half the tomato sauce, then top with half each of merguez meatballs, kale, eggplant, olives and mozzarella. Preheat oven to 400 F (200 C) and bake pizza until crust is golden brown and cooked through, about 15 to 20 minutes. Garnish with half of the Manchego. Repeat with remaining dough and ingredients.
* This recipe can be made with store-bought premade pizza dough, If you are using premade pizza dough, skip step 1.
Drink Pairings