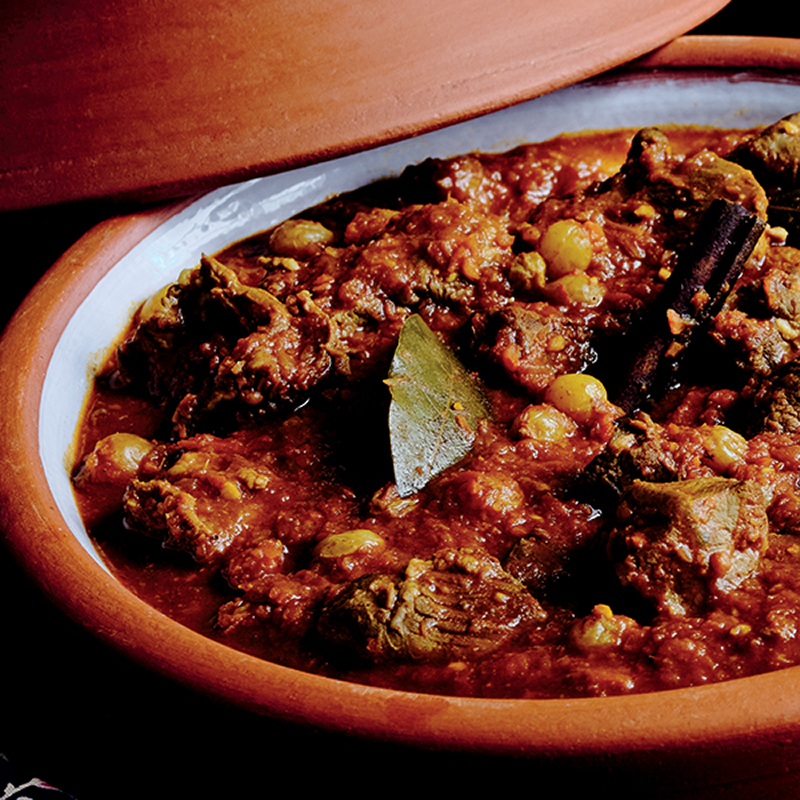 Lamb Tagine served with Herbed Couscous
Ingredients
Serves 4
5 tbsp (75 ml) grapeseed oil, divided
2 lbs (1 kg) lamb shoulder, cut into 1-in (2.5 cm) cubes
salt and pepper, to taste
3 celery stalks, trimmed and roughly chopped
1 large carrot, trimmed, peeled and roughly chopped
1 tbsp (15 ml) minced fresh ginger
1 x 5.5 oz (156 ml) can tomato paste
1 tsp (5 ml) ground coriander
1 tsp (5 ml) ground cumin
1 tsp (5 ml) ground turmeric
¼ tsp (1 ml) ground nutmeg
¾ cup (175 ml) golden raisins
4 cups (1 L) beef stock, divided
½ cup (125 ml) diced preserved lemon (about 1 to 2 whole)
½ cup (125 ml) chopped fresh parsley leaves
½ cup (125 ml) chopped mint leaves
Instructions
In a large Dutch oven over medium-high heat, heat 3 tbsp (45 ml) oil. Season lamb with salt and pepper. In 2 or 3 batches, cook lamb for about 3 minutes per side, until browned but not fully cooked. Once browned, remove each batch to a bowl.
Place celery, onion, carrot, garlic and ginger into bowl of a food processor. Pulse on high until very finely diced. In same Dutch oven, heat remaining 2 tbsp (30 ml) oil. Add diced vegetable mixture and sauté over medium heat for 10 minutes, or until soft and translucent. Add tomato paste, bay leaves, ground spices, cinnamon stick and cloves. Cook for another 5 minutes, then add raisins, 2 cups (500 ml) beef stock and lamb. Cover with lid, decrease heat to low and cook for 1½ to 2 hours, or until lamb is tender.
Meanwhile, in a medium pot over high heat, bring remaining 2 cups (500 ml) beef stock to a rapid boil. Add saffron and couscous and turn off heat. Cover with a lid and let sit for 5 minutes. Then use a fork to fluff the couscous. Add preserved lemon, parsley, mint and butter. Season with salt and pepper and fluff again to combine. Serve couscous with a ladle of tagine over top.
Drink Pairings