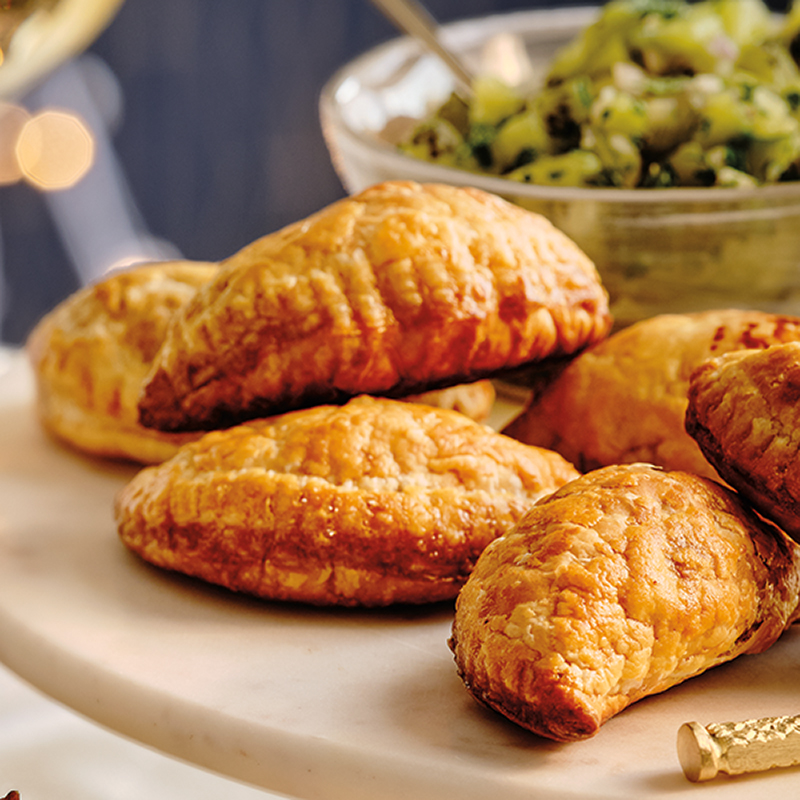 LAMB & WALNUT PUFFS SERVED WITH KIWI SALSA
Be the toast of the town this New Year's by throwing a gathering full of inspired bites that are not only delicious, but also easy to whip together as well. All that will be left is to pop a bottle of Champagne and toast to the New Year.
Ingredients
Serves Makes about 16 puffs
1 lb (500 g) ready-made puff pastry
1 tbsp (15 ml) grapeseed oil
½ medium yellow onion, finely chopped
½ tsp + ¼ tsp (2.5 ml + 1 ml) kosher salt, divided
¼ tsp (1 ml) red pepper chili flakes
⅓ cup (75 ml) finely chopped walnuts
1 tsp (5 ml) chili powder
1 tsp (5 ml) ground coriander
1 tsp (5 ml) ground cumin
¼ cup (60 ml) chopped parsley leaves
¼ tsp (1 ml) fresh lemon juice
1 tsp (5 ml) freshly grated ginger
1 small shallot, finely diced
2 tbsp (30 ml) fresh lime juice
2 tbsp (30 ml) chopped fresh mint
Instructions
Thaw puff pastry in refrigerator overnight before you plan to make Lamb and Walnut Puffs.
In a sauté pan, heat oil over medium heat. Add onions and ½ tsp (2.5 ml) salt then sauté for 3 minutes. Stir in garlic and red pepper chili flakes and continue to sauté for another 3 minutes. Crumble in ground lamb and cook, stirring frequently, until lamb is cooked through and any liquid released from lamb has evaporated, about 8 to 10 minutes. Stir in chopped walnuts, chili powder, paprika, ground coriander and cumin. Cook, stirring often, until mixture is cooked through and fragrant, about 5 more minutes. Remove sauté pan from heat and stir in chopped parsley. Taste and adjust seasoning with additional spices or salt as desired. Set aside and allow filling to cool to room temperature.
In a small bowl, whisk together egg, water and lemon juice until well combined. Set aside.
Lightly flour work surface and roll out puff pastry to ¼-in (0.5 cm) thickness. Using a 3¼-in (8.5 cm) round cookie cutter, cut out as many circles as possible. Divide lamb mixture among circles, brush edges of pastry with water, fold in half, and press with a fork to seal. Place on a parchment-lined baking tray and place in freezer while preheating oven.
Preheat oven to 375 F (190 C).
Once oven is at temperature, brush any remaining egg wash over top of puffs and bake until golden brown, about 25 to 30 minutes.
While puffs are baking, make kiwi salsa. Peel and dice kiwis. Place in a medium bowl with ginger, shallot, lime juice, mint and remaining ¼ tsp (1 ml) salt. Gently fold together to combine and set aside.
To serve, plate warm puffs on a serving platter and serve with kiwi salsa alongside.
Drink Pairings