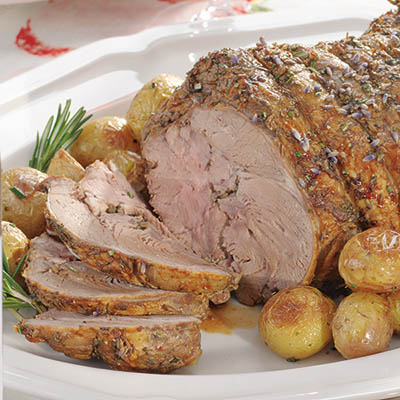 LAVENDER AND ROSEMARY ROAST LAMB
Ingredients
Serves 8
3 tbsp (45 ml) minced fresh rosemary
1 tbsp (15 ml) dried edible lavender
4 garlic cloves, finely minced
3½ lb (1.75 kg) butterflied, boneless leg of lamb roast
salt and pepper, to taste
Instructions
Preheat oven to 450 F (230 C).
In a small bowl, whisk together olive oil, rosemary, lavender and garlic until well combined. Place lamb on a cutting board and season all over with salt and pepper. Rub half the flavoured oil over inside of lamb before rolling up meat and tying with kitchen string to form a neat roast. Set on a rimmed baking sheet and rub remaining flavoured oil all over roast.
Roast lamb for 15 minutes. Reduce oven temperature to 375 F (190 C) and continue to roast until a meat thermometer inserted in thickest part registers 130 F (54 C), about 1 hour. Lamb will be cooked rare, cook longer if desired. Transfer lamb to a cutting board and let rest for 30 minutes. Slice and serve with roasted root vegetables and an onion gravy.
Drink Pairings