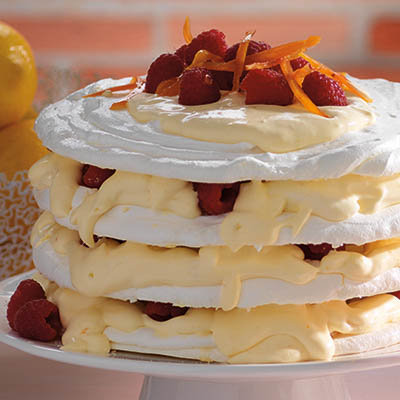 LAYERED MERINGUE CAKE WITH ROSY CITRUS CREAM
Ingredients
Serves 8 to 12
6 large egg whites, at room temperature
¼ tsp (1 ml) cream of tartar
1¼ cups (300 ml) granulated sugar
1 tsp (5 ml) vanilla extract
1 ruby grapefruit, peel and juice
½ cup (125 ml) icing sugar, sifted
6 large egg yolks, at room temperature
¾ cup (175 ml) icing sugar, sifted
⅓ cup (75 ml) fresh red grapefruit juice
½ cup (125 ml) unsalted butter, at room temperature, diced
1 cup (250 ml) full fat plain yogurt or whipped cream
1 cup (250 ml) fresh raspberries
fresh mint leaves, for garnish
Instructions
Place racks in upper and lower thirds of oven and preheat oven to 200 F (100 C). Line 2 baking sheets with parchment and trace two 8-in (20 cm) circles on each. You should have 4 circles.
To make MERINGUES: Using a clean, dry mixing bowl and electric mixer fitted with wire whisk, add egg whites, cream of tartar and salt and beat at medium speed until whites form soft peaks. Gradually beat in sugar, a little at a time, ensuring each addition is absorbed before adding more. Then add vanilla and continue to whip whites at high speed for 8 to 10 minutes until stiff, glossy peaks form and no sugar granules remain.
Place ¼ of the meringue into a piping bag fitted with a large tip and pipe mixture onto prepared baking sheet round, starting from outside and working toward centre. Parchment paper can be held firm to baking sheet with a splash of water on underside. Smooth surface with a thin metal spatula. Repeat 3 more times with remaining meringue. Place trays in oven and bake for 1½ hours. Turn off oven without opening door and allow to cool for 2 hours or preferably overnight. Meringues are very fragile. Use immediately or wrap in plastic wrap for 2 to 3 days at room temperature.
To make CANDIED GRAPEFRUIT PEEL: Blanch peel in boiling water for 20 seconds and transfer to a bowl of ice water. Drain. Repeat process 2 more times using fresh hot water and ice water each time. Drain and cut peel into thin slivers. Combine sugar, juice and water in a heavy-bottomed saucepan over low heat. Stir to dissolve sugar. Add peel and simmer for 20 to 25 minutes or until peel is translucent and tender and liquid is a thick syrup. Remove from heat and cool peel in syrup. Can be refrigerated for up to 5 days.
To make ROSY CITRUS CREAM: In a heatproof bowl placed over a large saucepan of simmering water gently whisk eggs, sugar and grapefruit juice until mixture thickly coats the back of a spoon, about 4 to 5 minutes. Remove from heat and cool slightly, about 5 minutes, then whisk in butter, a few pieces at a time, whisking well between each addition. Stir in lemon zest. Press a piece of plastic wrap onto surface and refrigerate until cold and set, at least 2 hours or overnight. When ready to spread on meringues, whisk cream to loosen. Fold in yogurt or whipped cream until no streaks remain.
To assemble Meringue Cake, gently peel parchment from meringues. Place 1 meringue on a large cake platter. Spread with ¼ of the cream and scatter with a few raspberries. Repeat with second, third and fourth meringue layers, ending with a little of the cream on top. Garnish with Candied Grapefruit Peel, raspberries and mint. Refrigerate until ready to serve. Cut into wedges using a sharp serrated knife and serve same day it is assembled.
Alternatively, freeze and serve partially frozen, cut into wedges.
Drink Pairings