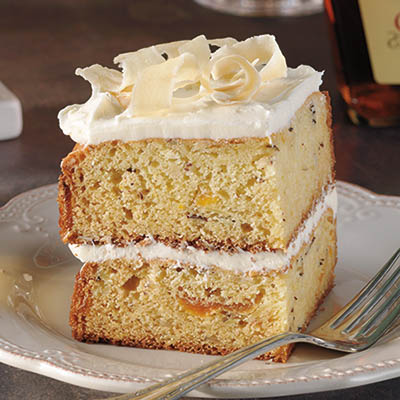 LAYERED PARSNIP COFFEE CAKE WITH BUTTERCREAM
Ingredients
Serves 32
1 cup (250 ml) coconut oil, melted, cooled
1½ cups (375 ml) granulated sugar
2 cups (500 ml) peeled, shredded parsnips
3 cups (750 ml) all-purpose flour
2 tsp (10 ml) each baking powder and soda
¼ tsp (1 ml) ground ginger
1 cup (250 ml) buttermilk
½ tsp (2 ml) bergamot flavouring
½ cup (125 ml) sliced hazelnuts
⅓ cup (75 ml) slivered dried apricots
½ cup (125 ml) white chocolate melting wafers
1 cup (250 ml) unsalted butter
3 cups (750 ml) icing sugar, sifted
⅓ cup (75 ml) whipping cream
slivered candied ginger (optional)
1 parsnip, peeled and trimmed
1 cup (250 ml) granulated sugar
Instructions
To make CAKE: Preheat oven to 350 F (180 C). Grease two 8 x 8-in (20 x 20 cm) baking pans and line with parchment paper, overlapping edges.
In a large bowl, stir together oil, sugar and eggs then stir in shredded parsnips and lemon zest until blended.
In another bowl, combine flour, baking powder, soda and seasonings. Stir to blend. Stir dry ingredients into sugar mixture, alternating with buttermilk. Add bergamot flavouring. Fold in hazelnuts and apricots. Turn into prepared pans and smooth top. Bake in oven for 30 to 35 minutes or until a cake tester inserted in centre comes out clean. Remove pan to a rack to cool for 10 minutes before lifting out of pan and cooling completely.
To make BUTTERCREAM FROSTING: Melt white chocolate wafers in small bowl over a saucepan of simmering water. Remove bowl from heat just before fully melted and stir until smooth. Cool completely.
In a bowl,cream butter, gradually adding icing sugar until completely combined. Beat in cream, then slowly beat in melted chocolate at low speed. Beat for 2 more minutes until fluffy. Add more cream or icing sugar if needed. Refrigerate until slightly firm and ready to frost cake.
To make PARSNIP CURLS: Preheat oven to 225 F (110 C). Thinly shave parsnip lengthwise using a peeler. In a medium- sized saucepan, combine sugar with water over medium-high heat to dissolve sugar. Stir in shaved parsnips and simmer with bubbles breaking surface for 15 minutes. Strain and let stand, for 15 minutes. Line a baking sheet with parchment paper and lay shaved parsnips in a single layer. Bake for 30 minutes. Remove and curl parsnip shavings around wooden spoon handles or fingers, making coils. Place seam-side down onto baking sheet, bake another 30 to 45 minutes until curls are firm. Remove sheet from oven and set aside.
When cake has cooled, pipe frosting or use a s spatula to spread half the frosting in swirls over top to edges of first layer. Place second cake layer on top and swirl remaining frosting over top. Arrange parsnip curls on top or sprinkle with chopped candied ginger.
Drink Pairings