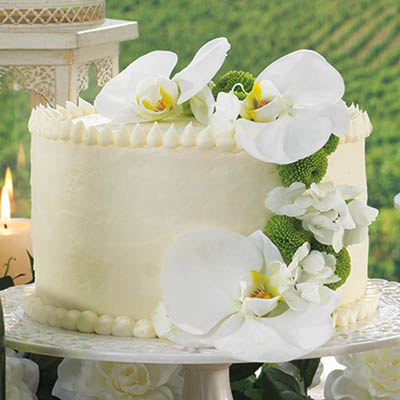 LAYERED RED WINE CHOCOLATE CAKE WITH CREAM CHEESE FROSTING
Ingredients
Serves 12
2¾ cups (675 ml) Cabernet or Merlot wine, divided
½ cup (125 ml) light brown sugar
3½ cups (875 ml) cake and pastry flour
½ cup (125 ml) cocoa powder
2 tsp (10 ml) baking powder
¼ tsp (1 ml) ground cinnamon
¼ tsp (1 ml) ground cardamom
1 cup (250 ml) unsalted butter, at room temperature
1 vanilla bean, split and seeds scraped out
2½ cups (625 ml) granulated sugar
4 large eggs, at room temperature
1 cup (250 ml) unsalted butter, at room temperature
½ cup (125 ml) vegetable shortening
1 lb (500 g) plain cream cheese, at room temperature
3½ lbs (1.5 kg) icing sugar
Instructions
To make CAKE: In medium-sized saucepan, whisk together ¾ cup (175 ml) wine and the brown sugar over low heat. Whisk until sugar dissolves. Set aside to cool. Wine syrup can be made a day ahead.
Preheat oven to 350 F (180 C). Grease three 8-in (20 cm) round cake pans with butter or cooking spray and line bottoms with a circle of parchment paper. Grease top of parchment rounds and set prepared pans aside.
In a medium-sized bowl whisk together flour, cocoa powder, baking powder, cinnamon, cardamom and salt. Set aside.
In bowl of a stand mixer fitted with paddle attachment beat together 1 cup (250 ml) butter, vanilla seeds and sugar. Mix on medium speed until light and fluffy, about 4 minutes. Reduce speed to low and add eggs, 1 at a time, mixing until each is incorporated. In 3 alternating additions, add flour mixture and remaining 2 cups (500 ml) wine to batter, mixing until just incorporated before each addition. Divide batter evenly between prepared cake pans.
Bake until a wooden skewer inserted in cakes comes out clean, about 30 to 40 minutes. Remove from oven and allow to cool completely in pans on a wire rack.
While cakes cool, prepare CREAM CHEESE FROSTING: In bowl of a stand mixer fitted with paddle attachment, cream together butter, shortening, cream cheese and vanilla. Sift together icing sugar and salt before gradually adding to butter mixture. Beat on low speed until fully incorporated and creamy.
To assemble cake, run a thin knife around edge of each cake tin and invert to unmould. Discard parchment paper. Cut each cake in half horizontally with serrated knife, making 6 layers. Place 1 cake layer, cut-side up, on cake stand. Brush with a thin layer of cabernet syrup and allow it time to seep in, about 1 minute. Place about ½ cup (125 ml) frosting in centre of cake layer and spread evenly to edges. Repeat process with next 5 layers. Refrigerate cake for half an hour. Thinly spread about 1 cup (250 ml) frosting all over cake, fine if uneven as this is a "crumb coat". Refrigerate cake again for half an hour. Using a small offset spatula, ice cake with remaining frosting. Refrigerate again for at least half an hour. Just before displaying, decorate top of with grapes or flowers, as desired.
Drink Pairings