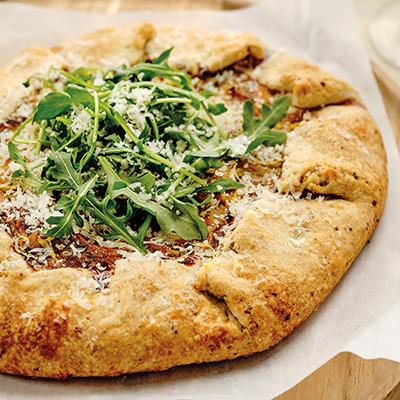 Ingredients
Serves 6 to 8
½ cup (125 ml) + 1 tbsp (15 ml) cold salted butter, cut into small cubes, divided
3 tbsp (45 ml) coarsely ground raw walnuts or hazelnuts
2 tbsp (30 ml) cold water, divided
3 heaping cups (750 ml) thinly sliced leeks, white and light green parts only (about 4 medium leeks)
½ tsp (2.5 ml) fennel seeds
⅓ cup (75 ml) dry white wine
2 garlic cloves, finely chopped
1 pinch dried chili flakes
2 tbsp (30 ml) butter, cubed
salt and pepper, to taste
¼ cup (60 ml) tightly packed freshly grated Parmesan
3 tbsp (45 ml) finely chopped Italian parsley leaves
1 tbsp (15 ml) lemon zest
¼ lb (125 g) Taleggio cheese, rind removed, cut into 10 to 12 pieces, divided
2 large handfuls peppery greens, such as watercress and arugula
2 tsp (10 ml) extra-virgin olive oil
1 tsp (5 ml) fresh lemon juice
salt and pepper, to taste
Instructions
To make Pastry, in a medium bowl, combine flour and ½ cup (125 ml) butter cubes. Using a pastry cutter or your hands, work butter into flour until it is the size of small peas. Continue working dough until it is a sandy texture; add in nuts and mix lightly to combine. Using a fork, stir in 1 tbsp (15 ml) water. Slowly add remaining 1 tbsp (15 ml) water (or as needed), stirring until dough comes together and just forms a ball; you may need to add a little more or a little less water. Knead dough until it comes together and is cohesive, about 1 to 2 minutes. Form dough into a disc, cover and place in refrigerator for 30 minutes.
To make Filling, preheat oven to 425 F (220 C). In a large ovenproof sauté pan or casserole with a tight-fitting lid, combine leeks, coriander seeds, peppercorns, fennel seeds, wine, water, olive oil, garlic and chili flakes. Scatter thyme and butter cubes over leeks, season generously with salt and pepper, cover pan and place in oven. Roast until leeks are very soft and sweet, about 40 minutes, stirring from time to time. Remove from oven and allow to cool for about 15 minutes. Remove and discard thyme sprigs. Leave oven on for baking crostata.
In a medium bowl, whisk eggs and add Parmesan, parsley, lemon zest and salt and pepper to taste. Stir in ¾ of the Taleggio pieces. Gently mix in cooled leeks.
Remove pastry dough from refrigerator and line a large baking sheet with parchment. On a lightly floured work surface, roll dough into an approximate 11-in (28 cm) round. Carefully transfer dough to lined baking sheet. Spoon leek mixture into centre of pastry, leaving a 2-in (5 cm) border all the way around. Gently fold pastry border back over filling, pleating as you go. Dot remaining pieces Taleggio over top. Melt remaining 1 tbsp (15 m) butter and allow to cool slightly. Brush edges of pastry with melted butter and refrigerate crostata for 30 minutes.
Bake crostata for 20 minutes, then reduce heat to 375 F (190 C) and continue baking until edges are golden brown and filling is bubbling, another 15 to 20 minutes. Remove from oven and leave crostata to cool on baking sheet for 30 minutes to allow pastry to crisp.
To finish, in a medium bowl, combine greens, olive oil, lemon juice and salt and pepper to taste. Mound greens in centre of crostata, slice and serve immediately.
Drink Pairings