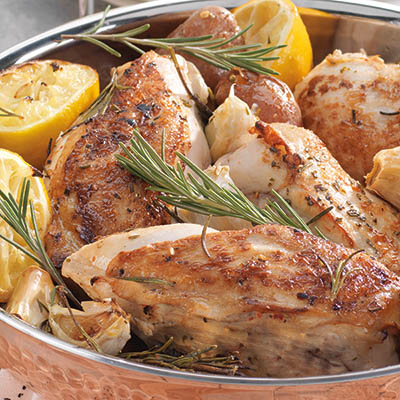 LEMON AND ROSEMARY ROASTED CHICKEN WITH NEW POTATOES
Ingredients
Serves 4
¾ lb (340 g) small new potatoes, halved
3 tsp (15 ml) salt, divided
1 tbsp (15 ml) rosemary leaves + 2 to 3 fresh sprigs, divided
6 to 8 garlic cloves, 1 smashed, the rest unpeeled, divided
1 pinch red pepper chili flakes
juice of 2 lemons, divided, halves reserved
3 tbsp (45 ml) extra-virgin olive oil, divided
4 chicken breasts, bone-in, skin-on, 6 to 8 oz (180 to 250 g) each
Instructions
Preheat oven to 450 F (230 C).
In a saucepan, place potatoes and cover with cold water. Add 1 tsp (5 ml) salt and bring to a boil over medium-high heat and cook until fork-tender, 6 to 8 minutes; drain and set aside.
Gather 1 tbsp (15 ml) rosemary leaves, 1 clove smashed garlic, remaining salt and chili flakes. Mince and mash into a paste using a large knife. Transfer paste to large mixing bowl and add juice of 1 lemon and 2 tbsp (15 ml) olive oil. Mix until well blended. Add chicken and mix well to coat.
Heat remaining olive oil in a large castiron skillet over medium-high heat. Add chicken, skin side down, cover and cook until skin browns, about 5 minutes. Turn chicken; add potatoes and remaining garlic cloves, and drizzle with juice of remaining lemon and any remaining marinade.
Add rosemary sprigs and squeezed lemon halves to skillet, transfer to oven and roast, uncovered, until chicken is cooked through and skin is crisp, 20 to 25 minutes.
Drink Pairings