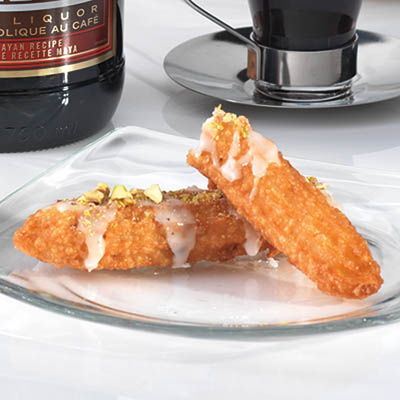 LEMON CHURROS WITH LEMON GLAZE
Ingredients
Serves 15 churros
1 cup (250 ml) icing sugar, sifted
2 tbsp (30 ml) lemon juice
½ cup (125 ml) unsalted butter, cut into small pieces
1 cup (250 ml) all-purpose flour
2 extra-large eggs, beaten
finely chopped toasted pistachios, optional
Instructions
To make LEMON GLAZE: In a medium-sized bowl, mix ingredients together until blended and smooth. Makes 1 cup (250 ml).
To make CINNAMON SUGAR: In a small bowl, mix sugar and cinnamon together until blended. Makes ½ cup (125 ml).
To make LEMON CHURROS: In a large saucepan, heat butter and water over medium heat until butter has melted. Bring to a boil, remove from heat and stir in flour and salt. Beat thoroughly until mixture is smooth and comes away from the sides of the saucepan. Allow to cool 5 minutes, then gradually beat in eggs to make a thick and glossy paste. Beat in lemon rind.
Heat 2-in (5 cm) vegetable oil to 325 F (170 C) in a deep fryer or a heavy, deep Dutch oven over medium heat. Line a baking sheet with paper toweling and set aside.
Spoon churro paste into a large pastry bag fitted with a large star tip and pipe five 6-in (15 cm) strands into hot oil. Fry, turning frequently, 3 to 5 minutes until crisp, golden and cooked through. Remove with a slotted spoon and drain on baking sheet. Allow to cool slightly.
Drizzle with Lemon Glaze then sprinkle with chopped pistachios or toss into Cinnamon Sugar.
Drink Pairings