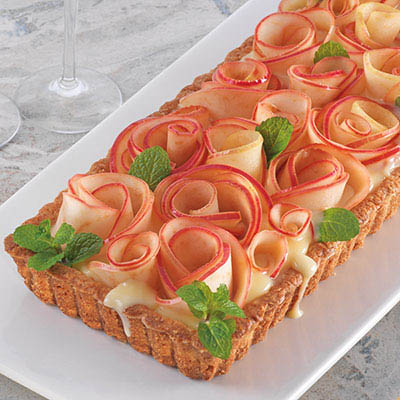 LEMON CURD TART WITH APPLE ROSES
Ingredients
Serves 6
4 large egg yolks, divided
1¼ cups (310 ml) lemon juice, strained, divided
1 cup + 3 tbsp (250 ml + 45 ml) sugar, divided
¼ tsp (1 ml) salt, divided
1¾ cups (425 ml) butter, at room temperature
½ cup (125 ml) chilled butter, cut into 2-in (5 cm) chunks
2 tbsp (30 ml) whipping cream
6 large apples (e.g. Ambrosia, Fuji or Gala)
10 to 12 mint leaves, for garnish (optional)
Instructions
In a bowl, whisk together eggs and 2 egg yolks, set aside.
In a medium saucepan, over medium heat stir together 1 cup (250 ml) lemon juice, lemon zest, 1 cup (250 ml) sugar and ⅛ tsp (pinch) salt. Stirring constantly, gently heat just until sugar is melted. Add 1¾ cups (425 ml) melted butter. Remove saucepan from heat and stir until butter has melted.
Gradually add egg mixture to sugar syrup, whisking constantly until fully incorporated. Return saucepan to medium heat and whisk constantly until lemon curd thickens and first few large bubbles pop on surface. Remove from heat and whisk for another 30 seconds. Allow to cool for about 10 minutes, then cover surface with plastic wrap and refrigerate for at least 1 hour.
In a large bowl, lightly whisk together flour, 3 tbsp (45 ml) sugar, and ⅛ tsp (pinch) salt. Add chilled butter and using pastry cutter or blunt knife, cut butter into flour mixture until it resembles a sandy texture.
In a small bowl, lightly whisk 2 egg yolks and whipping cream. Pour over flour and butter mixture and incorporate together to form a ball. Cover in plastic wrap and refrigerate for at least 1 hour.
Roll pastry to about ¼-in (0.5 cm) thick and line a 4-in x 14-in (10 cm x 35 cm) fluted tart pan. Alternatively, if pastry is too sticky, break chunks of pastry and evenly press along sides and bottom of tart pan to about ¼-in (0.5 cm) thickness. Trim edges by rolling a rolling pin over edges. Using a fork, poke holes all over bottom and sides of pastry. Freeze for at least 30 minutes.
When ready to bake, preheat oven to 375 F (190 C).
Place chilled tart shell on a rimmed baking sheet. Then place tinfoil over pastry and pour pie weights or uncooked kidney beans into it. Bake for 30 minutes. Remove foil and pie weights and continue baking for another 10 to 15 minutes. If using kidney beans, discard after use. Remove tart shell from oven and cool completely on wire rack.
When ready to assemble, brush bottom of tart with marmalade. Then pour in lemon curd.
Fill a large non-reactive, heatproof bowl halfway with 4 cups (1 L) water. Add ¼ cup (60 ml) lemon juice. Cut apples in half and core centre away. Carefully using a mandoline, thinly slice apple halves crosswise or cut into ⅛-in (0.125 cm) slices. Add apples to water-lemon mixture. Microwave for about 3 seconds on high until apple slices are slightly pliable, but not mushy. Strain apples and discard water.
On a clean surface, lay 1 apple slice, with cut side facing you. Place another apple slice halfway over it. The cut sides should line up. Repeat with another 5 to 8 apple slices so that all cut sides neatly line up in a row. Roll first apple slice toward second one and continue until all apple slices are rolled together. The rounded sides of slices should resemble a rose. Place apple rose into lemon curd. Repeat until surface of tart is covered with apple roses. If desired, insert mint leaves between some apple roses as garnish.
Drink Pairings