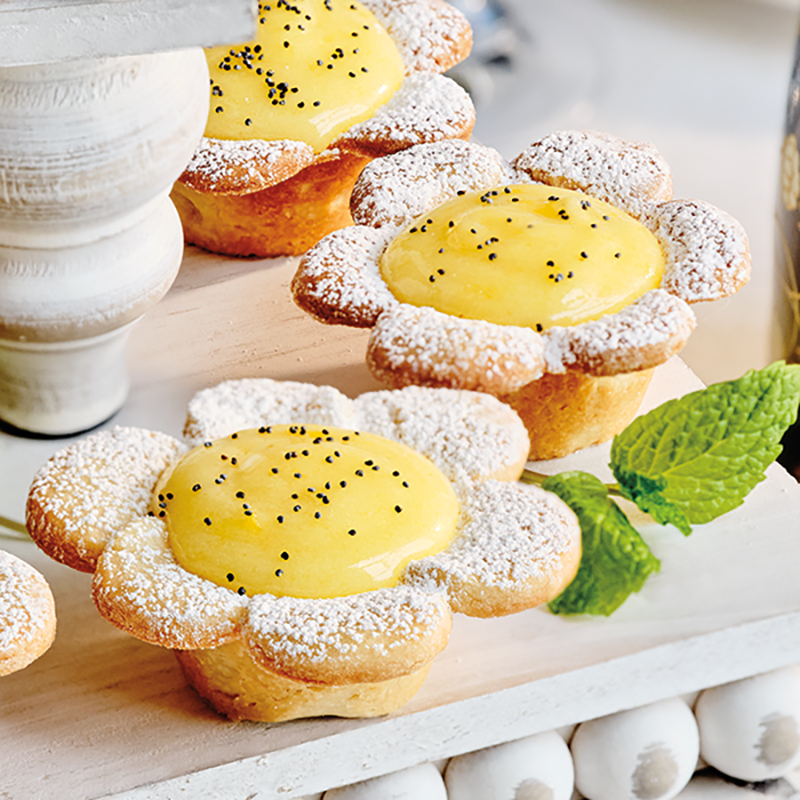 Lemon Daisies
Beautiful and delicious desserts for your next spring garden party.
Ingredients
Serves 12 daisies
½ cup (125 ml) fresh lemon juice
1 tbsp (15 ml) lemon zest (optional)
1 to 2 tbsp (15 to 30 ml) icing sugar, for dusting
12 Daisy Tart Shells, make ahead, recipe follows
2 tsp (10 ml) poppy seeds (optional), for garnish
4 oz (125 g) cold butter, cubed about 1-in (2.5 cm)
1 tbsp (15 ml) whipping cream
1 tsp (5 ml) vanilla extract
Instructions
To make Daisy Tart Shells, in food processor, pulse together flour, salt and icing sugar for 10 seconds. Add cold butter and process until mixture resembles coarse sand.
In a small bowl, lightly whisk together egg, whipping cream and vanilla extract. With food processor running, slowly add egg mixture until it forms a dough ball.
Transfer dough to clean surface and flatten slightly to form a disk about 1½‑in (3.75 cm) thick. Wrap in plastic wrap and refrigerate for at least 1 hour.
Remove dough from refrigerator and allow to rest at room temperature for about 15 minutes. Meanwhile prepare two 12-muffin baking pans as follows: grease 6 alternating muffin cups in each pan, leaving at least 1 empty muffin cup between greased ones.
Place dough between 2 pieces of parchment paper roughly 15-in to 18-in (38 cm to 46 cm) long. Roll dough to about ¼-in (0.5 cm) thickness. Remove top parchment paper. Using 4-in (10 cm) flower-shaped cookie cutter, cut 6 flowers. Use each pastry flower to line greased muffin cups on 1 baking sheet, arranging petals to slightly fold over top surface of pan like a flower. Lightly press edges and bottom of each flower cup. 
Gather remaining pastry and form into pastry disk about 1½-in (3.75 cm) thick. Repeat previous step to create 6 more flower pastry shells in remaining greased muffin cups.
Using a fork, poke holes along bottom and sides of pastry in muffin cups. Refrigerate for about 30 minutes.
Preheat oven to 350 F (180 C). Bake chilled pastry shells until edges of pastry turn golden in colour, about 12 to 15 minutes.
Remove from oven and allow pastry to cool in pans on wire rack. When cool, gently remove tart shells from pan and store in airtight container at room temperature until ready to use, for up to 2 days.
For filling, in a medium, heavy-bottomed saucepan, mix egg yolks, sugar, salt and lemon juice. Place over saucepan of simmering water and cook until sugar is melted and mixture starts to thicken. When you see a couple of small bubbles pop on surface (do not wait for full boil), remove from heat, stir vigorously for about 15 seconds.
Add butter to mixture and continue mixing until fully incorporated. Strain mixture through a fine mesh sieve into a medium bowl. Mix in lemon zest, if using, until well incorporated with lemon curd. Cover surface with plastic wrap. Use another piece of plastic wrap to cover bowl and refrigerate for about 2 hours.
When ready to assemble, dust icing sugar over prepared Daisy Tart Shells. Spoon and fill tart shells with lemon curd and garnish with poppy seeds, if using, as desired.
Drink Pairings