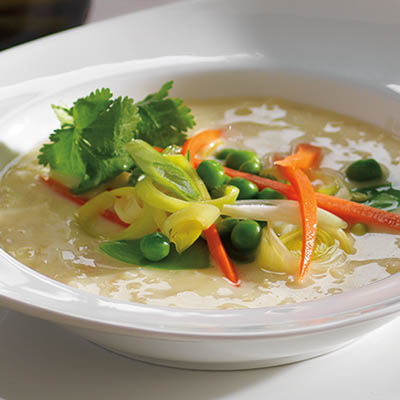 Ingredients
Serves 8
1 tbsp (15 ml) grape seed oil
½ small yellow onion, peeled and finely minced
1 large garlic clove, smashed and minced
½ cup (125 ml) white quinoa, rinsed and thoroughly drained
6 cups (1.5 L) chicken stock, divided
3 tbsp (45 ml) cornstarch
¼ cup (60 ml) fresh lemon juice
1 small leek, trimmed, washed, sliced into thin rounds
8 baby carrots, trimmed, scraped, cut into matchsticks
½ cup (125 ml) fresh or frozen peas, snap, shelled or snow peas
3 whole green onions, thinly sliced
fresh cilantro, for garnish
Instructions
Heat oil in a heavy-bottomed saucepan. Add onion and sauté over medium heat for 2 minutes or until softened. Do not brown. Add garlic and stir for 1 minute. Stir in quinoa to coat. Add 4 cups (1 L) stock and bring to a gentle boil. With lid ajar, simmer soup for 10 minutes until quinoa is tender.
Meanwhile, place eggs in a mixing bowl and beat with an electric mixer until smooth. Dissolve cornstarch in ½ cup (125 ml) of stock. Beat into egg mixture along with lemon juice.
Heat remaining 1½ cups (375 ml) stock in a saucepan. Do not boil. Gradually beat warmed stock into egg mixture a little at a time to prevent it from curdling eggs. Set aside.
When quinoa is fully cooked, stir in leek, carrots and peas, reserving a couple crisp veggies for garnish. Slowly stir egg mixture into hot soup, stirring constantly until slightly creamy and thickened. Do not let it boil. Remove from heat and add salt and pepper to taste. Ladle into bowls and sprinkle with remaining crisp veggies and green onions. Serve immediately, garnished with fresh cilantro.
Drink Pairings