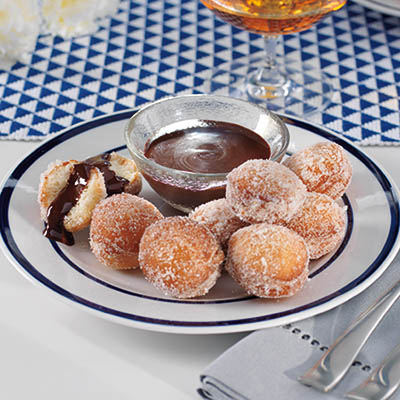 Ingredients
Serves 8 to 10
1¾ cup (425 ml) granulated sugar, divided
5 tbsp (75 ml) unsalted butter, at room temperature
5½ cups (1.375 L) all-purpose flour, divided
¾ cup (175 ml) finely chopped crystalized ginger
2 tsp (10 ml) finely grated lemon zest
4½ tsp (22 ml) quick-rising yeast
⅓ cup (75 ml) evaporated milk
2 tsp (10 ml) vanilla extract
1½ tsp (7 ml) ground ginger
1 cup (250 ml) whipping cream
1 tbsp (15 ml) brown sugar
10 oz (300 g) bittersweet chocolate
Instructions
Mix 1 egg, ¾ cup (175 ml) sugar, butter and salt until blended. Add 5 cups (1.25 L) flour, crystalized ginger, lemon zest and yeast. Mix on low speed for 1 minute. Add hot water, milk and vanilla and stir until well blended. Add remaining eggs and flour. Stir until dough is smooth, slightly sticky and begins to come away from sides of bowl. Add more flour 1 tbsp (15 ml) at a time if dough is very sticky. Cover bowl with plastic wrap and a kitchen towel. Let dough rise until almost doubled in volume, about 2 hours.
Punch down dough and cut into two equal pieces. Working with one piece at a time, roll on a lightly floured work surface into a 12x16-in (30 cm x 40 cm) rectangle. Using a 1½ -in (2.75 cm) round cookie cutter, cut as many circles as possible. Repeat with remaining dough.
Preheat oil in a deep fryer until 340 F (170 C) registers on a deep fry thermometer. Line a baking tray with paper towel and set aside.
In a medium bowl, whisk together remaining sugar and ground ginger until well combined. Set aside.
Fry 8 to 10 rounds of dough at a time until puffed and golden brown, turning once, about 2 minutes total. Transfer doughnuts to paper towel-lined tray to drain. Roll warm doughnuts in sugar mixture and set aside.
Fit a piping bag with a small star piping tip and fill with Brandy Chocolate Sauce. Pipe sauce into each doughnut. Serve warm. Alternatively, Brandy Chocolate Sauce may be served as a dip.
BRANDY CHOCOLATE SAUCE: Bring cream, brandy and brown sugar just to a boil over medium-high heat. Remove from heat and add chocolate. Let stand 2 minutes before whisking. Once chocolate has been well incorporated, set aside. Sauce may be made up to 5 days in advance. Warm over low heat until pourable before serving.
Drink Pairings