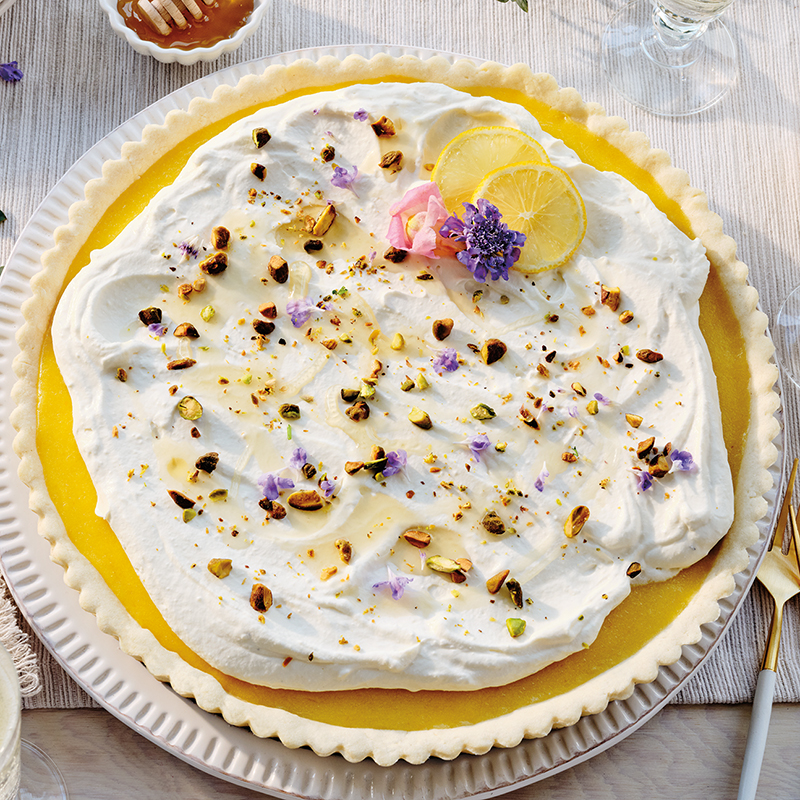 Lemon Mascarpone Tart
Light and fresh Easter.
Ingredients
Serves 8 to 10
1 cup (250 ml) icing sugar
1 cup (250 ml) + ⅔ cup (160 ml) cold butter, cubed, divided
1 to 2 tsp (5 ml to 10 ml) water, if needed
1 cup (250 ml) white sugar
6 lemons, juice and zest (about 1 cup (250 ml) juice)
16 oz (473 g) whipping cream
9.5 oz (275 g) mascarpone
4 tbsp (60 ml) honey, divided
2 tbsp (30 ml) chopped pistachios, unsalted, roasted
Instructions
Line a 12-in (30 cm) tart pan with parchment paper and spray sides with non-stick cooking spray.
In a food processor, add flour, icing sugar and salt. Pulse for 10 seconds to combine. Add 1 cup (250 ml) cold butter cubes. Pulse on high until it forms a dry grainy texture. Add 2 eggs and pulse to combine. Pinch dough between your fingers—if it holds together, it's ready, if not add 1 to 2 tsp (5 ml to 10 ml) of cold water, until dough holds together. Pour dough mixture onto clean, floured surface and form into a round, flat disc. Wrap in plastic wrap and refrigerate for 1 hour.
Preheat oven to 350 F (180 C).
Remove plastic wrap and place chilled dough on clean, dry, floured surface. Using a rolling pin, roll dough into a large circle about ¼‑in (0.5 cm) thick. Place dough over tart pan and press down to fill. Using a fork, poke about 10 to 15 holes all over base of tart. Bake until cooked through, about 12 to 15 minutes. Allow to cool completely.
In a small mixing bowl, mix egg yolks, sugar, lemon juice and zest.
In a small saucepan, heat egg yolk mixture over medium-low heat. Using a whisk, stir constantly over low heat until mixture is thick enough to coat back of a spoon. Pour mixture into cooled tart shell and refrigerate overnight or for a minimum of 5 hours.
In a large mixing bowl, using an electric hand mixer, whip cream to form stiff peaks. Add mascarpone, vanilla and 2 tbsp (30 ml) honey, whip to combine for 1 minute.
To serve, spread whipped cream mixture evenly onto tart, leaving 1-in (2.5 cm) of lemon curd showing around edges. Garnish with pistachios and drizzle with remaining 2 tbsp (30 ml) of honey.
Drink Pairings