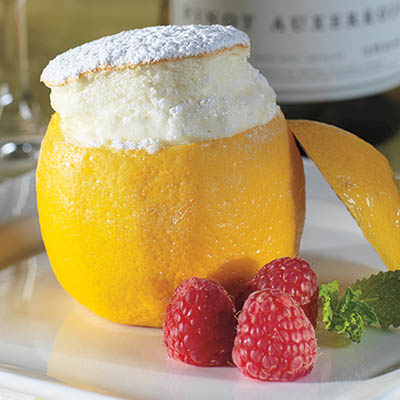 Ingredients
Serves 8
8 large lemons, equal size and shapes
½ cup (125 ml) granulated sugar, divided
2 tbsp (30 ml) all-purpose flour
Instructions
Preheat oven to 350 F (175 C). Line a baking sheet with parchment paper or a silicon mat. Trim bottom end from lemons so they sit level. Cut off stem end a third of the way down from each lemon, making cut parallel with bottom. Reserve top for serving.
Hold a lemon above a sieve set over a bowl. Using a small paring knife, cut around inside of lemon, between pith and pulp. Scoop out pulp using a soup spoon. Squeeze juice from pulp and reserve. Repeat with remaining lemons. Place emptied out lemons on prepared baking sheet. Note: if pith is thick, trim down so no thicker than ⅛-in (3 mm).
In a heatproof bowl, combine egg yolks, ¼ cup (60 ml) granulated sugar, ¼ cup (60 ml) of the reserved lemon juice and the flour. Using an electric hand mixer, beat mixture on high speed until pale yellow, about 6 minutes. Place bowl over a pan of simmering water. Mix constantly until custard consistency, about 4 minutes. Remove bowl from heat and continue beating until cooled, about 5 minutes. Strain through a sieve into a medium-sized bowl and set aside.
In a separate heatproof bowl, combine egg whites and remaining ¼ cup (60 ml) sugar. Place bowl over a pan of simmering water and mix with hand mixer until sugar has dissolved and mixture is warm to touch, about 1 minute. Remove bowl from heat and beat on low until frothy. Gradually increase speed to maximum and beat until meringue is shiny and holds soft peaks, 2 to 3 minutes, do not overbeat.
Whisk a third of meringue into yolk mixture. Then gently fold in remaining meringue using a large spatula. Fill prepared lemon shells with mixture to just below rim and return to baking sheet.
Transfer baking sheet to oven and bake until tops are slightly golden and soufflés have risen about ½-in (1.25 cm) above each shell, about 15 minutes. Remove from oven, dust with icing sugar. Transfer to serving plates and serve immediately.
Drink Pairings