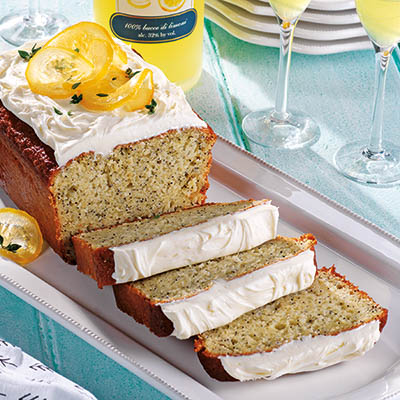 LEMON, THYME AND POPPYSEED LOAF
Ingredients
Serves 10
1 cup (250 ml) granulated sugar
2 tbsp (30 ml) chopped thyme leaves
¾ cup (175 ml) buttermilk
¼ cup + 3 tbsp (60 + 45 ml) lemon juice, divided
1¼ tsp (6 ml) vanilla extract, divided
⅓ cup (75 ml) grapeseed oil
1¾ cups (425 ml) all-purpose flour
1½ tsp (7 ml) baking powder
1 tbsp + 2 tsp (25 ml) poppyseeds
⅓ cup (75 ml) Lemon Syrup, make ahead, recipe follows
¼ cup (60 ml) cream cheese, at room temperature
1 cup (250 ml) icing sugar
CANDIED LEMONS AND LEMON SYRUP:
1 cup (250 ml) granulated sugar
1 large lemon, cut into ¼-in (0.5cm) thick slices
Instructions
Preheat oven to 350 F (180 C). Butter and flour an 8 x 4-in (1.5 L) loaf pan.
In a large bowl, place sugar, lemon zest and thyme and rub together with fingers until it looks like wet sand. Whisk in buttermilk, ¼ cup (60 ml) lemon juice, 1 tsp (5 ml) vanilla extract, eggs and oil.
In a medium bowl, whisk together flour, baking powder, baking soda, salt and poppyseeds. Pour dry ingredients into wet mixture and whisk until batter is just combined.
Pour batter into prepared pan. Bake until a wooden toothpick inserted in centre comes out clean, about 1 hour. Let cool in pan until warm to the touch, about 20 minutes.
In a small saucepan over medium-low heat, warm Lemon Syrup. Turn out cake and place right side up onto a baking rack set over a rimmed baking sheet. Brush Lemon Syrup over cake and let cool completely, about 1 hour.
In a medium bowl using an electric hand mixer, beat together cream cheese and remaining ¼ tsp (1 ml) vanilla extract until smooth and creamy. Beat in icing sugar, ½ cup (125 ml) at a time. It should be thick and spreadable frosting.
To serve, transfer cake to a serving platter. Spread frosting over top of cake before garnishing with Candied Lemons and additional thyme leaves, if desired.
To make CANDIED LEMONS AND LEMON SYRUP, Line a baking sheet with parchment paper and set aside. In a medium saucepan over medium heat, bring sugar and water to a simmer, stirring occasionally. Add lemon slices, place a round of parchment paper on top of lemons, and reduce heat to medium-low. Simmer, turning lemon slices occasionally, until pith is tender and translucent, about 40 minutes. Remove lemon slices from Lemon Syrup and arrange in a single layer on prepared baking sheet. Set aside both Candied Lemons and reserved Lemon Syrup for Loaf recipe. Makes about 10 lemon slices.
Drink Pairings