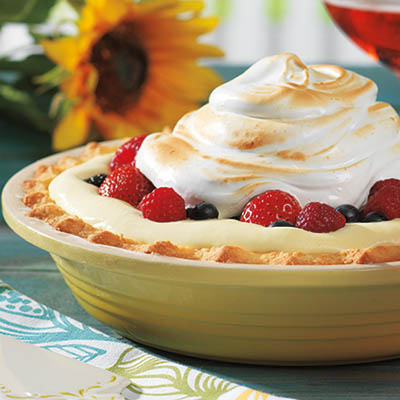 LEMONADE TART WITH TIPSY BERRIES
Ingredients
Serves 8
1¼ cups (300 ml) all-purpose flour
¼ cup (60 ml) granulated sugar
½ tsp (2 ml) baking powder
¼ tsp (1 ml) salt plus extra
¼ cup (60 ml) cold unsalted butter
2 tbsp (30 ml) cold water
1 tbsp (15 ml) lemon zest
1 cup (250 ml) fresh lemon juice
¾ cup (175 ml) granulated sugar
½ cup (125 ml) cubed butter
1 tsp (5 ml) unflavoured gelatin
¾ cup (175 ml) whipping cream
½ cup (125 ml) halved fresh strawberries
½ cup (125 ml) fresh raspberries
½ cup (125 ml) fresh blueberries
½ cup (125 ml) fresh blackberries
⅛ tsp (0.5 ml) cream of tartar
Instructions
To make TART SHELL: In bowl of a food processor pulse together flour, sugar, baking powder, salt and lemon zest. Add butter and pulse until mixture has a sandy texture. Add whole egg and 2 tbsp (30 ml) cold water and pulse until dough just starts to hold together. Empty dough into a lightly greased 9-in (23 cm) deep dish pie plate and press dough into bottom and up sides. Refrigerate dough for at least 30 minutes.
Preheat oven to 350 F (180 C).
Prick tart shell all over with a fork and bake until golden brown, about 20 minutes. Set aside on a wire rack and let cool completely.
While shell is cooling, make FILLING: Set a strainer over a bowl and set aside. Whisk together 1 tbsp (60 ml) lemon zest and lemon juice, 3 whole eggs, plus 3 egg yolks, salt and sugar together in another heatproof bowl before setting over a saucepan of gently simmering water. Don't allow bottom of bowl to touch water. Whisk until mixture has thickened enough to leave a ribbon on surface of mixture and an instant-read thermometer registers 175 F (79 C), about 15 minutes. Remove bowl from heat and add cubed butter to filling, a couple of tablespoons at a time, whisking to incorporate between additions. Strain filling into prepared bowl and press a piece of plastic wrap directly onto surface of filling. Chill until cold, about 2 to 3 hours. Filling can be made 2 days ahead and kept refrigerated.
About 6 hours before planning on serving tart, in a small bowl, sprinkle gelatin over 2 tbsp (30 ml) water and set aside for 10 minutes. Using an electric mixer beat whipping cream in a large bowl until soft peaks form. Add gelatin mixture and continue whipping cream until firm peaks stage. Gently fold whipped cream into chilled lemon filling. Cover with plastic wrap and chill for 3 hours. Spoon filling into prepared tart shell and refrigerate another hour or until set.
For FRUIT TOPPING: In a bowl, gently toss all berries with vodka. Set aside for 1 hour.
While berries are macerating, make MERINGUE TOPPING: In a medium saucepan over mediumlow heat, stir together sugar and water until sugar dissolves. Decrease heat to low and cover saucepan.
In bowl of a stand mixer fitted with whisk attachment, beat egg whites with cream of tartar and a pinch of salt just until stiff peaks form.
Uncover sugar syrup, attach a candy thermometer to side of saucepan, increase heat to medium-high and boil mixture, occasionally swirling pan and brushing down sides of pan with a wet pastry brush, until thermometer registers 238 F (114 C), about 6 to 8 minutes. Remove pan from heat.
With mixer on medium speed, slowly pour hot sugar syrup down side of mixing bowl into whites and beat until meringue is firm and glossy. Increase speed and continue beating until cool, about 4 minutes.
Finish assembling tart by first draining macerated berries. Place about half over lemon filling, reserving remaining berries to be served alongside. Top with meringue, leaving a 1-in (2.5 cm) border. With a small kitchen torch brown meringue. Alternatively, meringue may be browned in a 450 F (230 C) oven for 3 to 5 minutes. Chill pie for at least 30 minutes before serving. Pie is best enjoyed within 3 hours of assembly. Serve slices with extra berries.
Drink Pairings