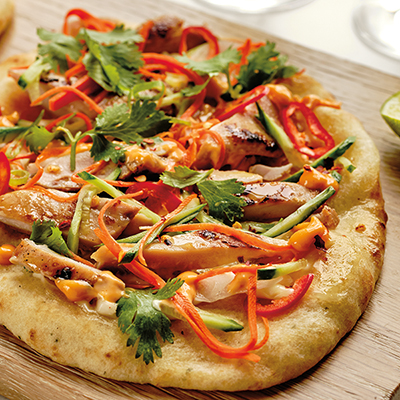 LEMONGRASS CHICKEN BÁNH MÌ FLATBREAD
Ingredients
Serves 2
1 medium carrot, julienned
¼ cup (60 ml) rice vinegar
5 tbsp (75 ml) sugar, divided
1 lb (500 g) boneless, skinless chicken thighs
2 stalks lemongrass, crushed
2 tbsp (30 ml) vegetable oil
2 large flatbreads, make ahead, recipe follows (or use store-bought)
¼ cup (60 ml) Sriracha mayonnaise
½ English cucumber, julienned
1 Thai red chili, thinly sliced (optional)
½ bunch cilantro, leaves only
1 lime, cut into wedges, to serve
2 tsp (10 ml) active dry yeast
¾ cup (175 ml) warm water
¼ cup (60 ml) plain yogurt
3 tbsp (45 ml) olive oil, divided
2½ cups (625 ml) all-purpose flour, plus more for dusting
Instructions
In a bowl, mix together rice vinegar, water, salt and 3 tbsp (45 ml) sugar. Pack carrot into a jar and top with vinegar mixture. Allow to sit in refrigerator overnight. Will keep, refrigerated, for up to a month.
Combine chicken, lemongrass, garlic, remaining 2 tbsp (30 ml) sugar, fish sauce, lime zest and juice and oil. Marinate in refrigerator for at least 2 hours but preferably overnight.
Preheat oven to 400 F (200 C).
Roast chicken in oven for about 15 minutes, or until browned, cooked through and reaches an internal temperature of 165 F (74 C). Transfer to a cutting board and allow chicken to cool slightly, reserving baking sheet with juices. Place flatbreads on same baking sheet, moving them around to soak up juices. Warm in oven for about 5 minutes, or until just warmed through. Cut chicken into 1-in (2.5 cm) strips.
Remove flatbreads from oven and place dry side down on a serving platter. Spread Sriracha mayonnaise on each, then top with sliced chicken, pickled carrots, cucumber, chili and cilantro. Serve with lime wedges on side.
FLATBREAD:
Dissolve yeast in water. Mix yogurt, salt and 1 tbsp (15 ml) oil into yeast mixture, then combine with flour. Mix just until everything comes together into a shaggy dough.
Turn dough out onto clean counter and knead until smooth, about 8 to 12 minutes.
Place dough into lightly oiled bowl and cover with a damp towel. Allow to rise at room temperature until doubled in size, about 1 hour. Alternatively, allow to rise, covered, in refrigerator overnight.
Turn dough out onto a lightly floured surface and divide into 2 pieces. Roll each piece into a ball, then press or roll into a 10-in (25 cm) round circle.
Heat 1 tbsp (15 ml) oil in a 10 to 12-in (25 to 30 cm) heavy-bottomed saucepan over medium heat. Lay 1 pita in pan and cook until bottom has golden brown spots and it starts to puff, about 3 to 4 minutes. Flip and cook until it has golden brown spots, about another 3 to 4 minutes. Repeat with remaining dough. Can be made up to 1 day in advance and stored in an airtight container.
Drink Pairings