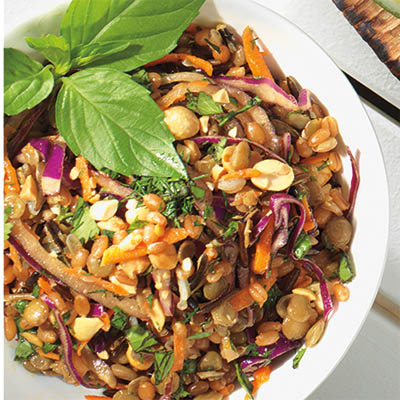 Ingredients
Serves 8
¾ cup (175 ml) wheat berries
1 cup (250 ml) green lentils, picked, rinsed
1 cup (250 ml) finely shredded red cabbage
1 cup (250 ml) peeled coarsely grated carrots
1 cup (250 ml) shredded fresh kale
½ red onion, thinly sliced, ring separated
2 Thai red chili peppers, seeded and thinly sliced into julienne strips
½ cup (125 ml) mixed minced fresh cilantro and mint
¼ cup (60 ml) fresh lime juice
1 tbsp (15 ml) Ponzu Sauce
1 tbsp (15 ml) minced, peeled ginger root
2 tsp (10 ml) brown sugar
1 cup (250 ml) chopped, salted, roasted peanuts, for garnish
Instructions
To make SALAD: In a large saucepan of boiling salted water, add wheat berries. Cover, return to a boil and reduce to simmer. Cook for 30 minutes. Stir in wild rice and return to a boil. Reduce to simmer, cover and cook for 45 more minutes or until wheat berries and wild rice is tender but still firm. Drain and cool.
In a medium-sized saucepan combine lentils with 2½ cups (625 ml) water and ½ tsp (2 ml) lemon juice. Bring to a boil. Reduce heat and with lid ajar, cook over medium-low heat for 35 to 45 minutes or until lentils are tender. Remove from heat, drain and cool.
In a large bowl, combine cooked and cooled wheat berries, wild rice and lentils. Add cabbage, carrots, kale, onion and julienned Thai chili peppers.
Combine DRESSING ingredients in a bowl, other than peanuts, and whisk until blended. Drizzle over salad and gently fold in along with minced herbs. Cover and refrigerate. Scatter toasted peanuts over top just before serving.
Drink Pairings