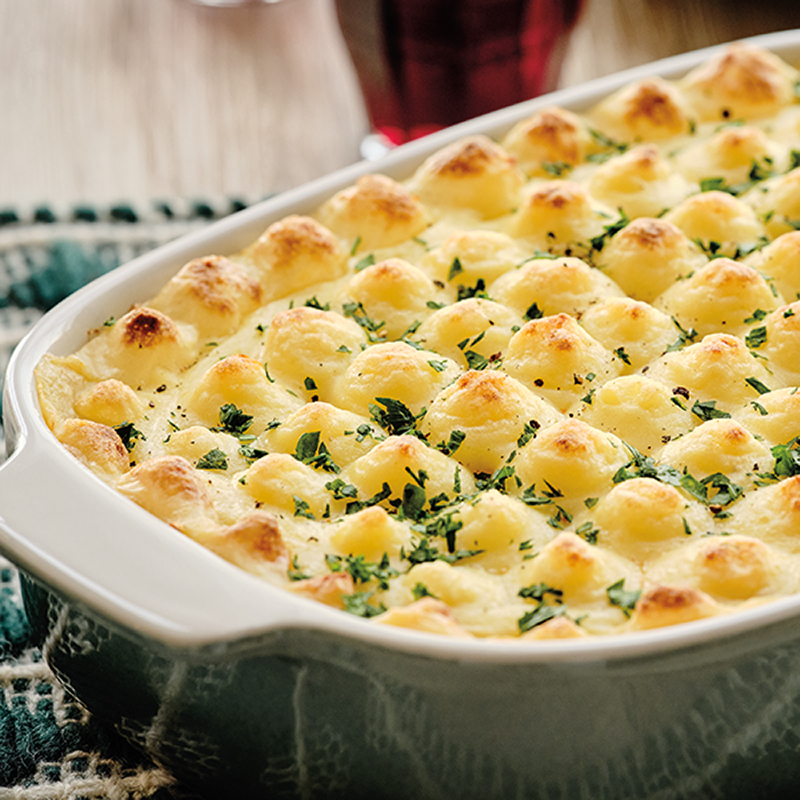 LENTIL SHEPHERD'S PIE
A plant-based comfort food to get you through the winter.
Ingredients
Serves 8
1 tbsp (15 ml) grapeseed oil
1 tsp (5 ml) dried thyme leaves
½ tsp (2 ml) dried rosemary leaves
¼ cup (60 ml) tomato paste
½ cup (125 ml) vegan dry red wine, such as Cline Farmhouse California Red
1½ cups (375 ml) green lentils, rinsed
4 cups (1 L) vegetable stock
2 lbs (1 kg) peeled and roughly chopped yellow potatoes
¼ cup (60 ml) almond butter or tahini
1 tbsp (15 ml) low sodium soy sauce or tamari
1 tbsp (15 ml) balsamic vinegar
½ tsp (2.5 ml) freshly ground black pepper
1 tsp (5 ml) kosher salt, divided
2 tbsp (30 ml) vegan butter (can sub unsalted butter, if not vegan)
2 tbsp (30 ml) nutritional yeast (can sub Parmesan, if not vegan)
plant-based milk substitute, if needed to thin potato mixture (can use whole milk, if not vegan)
Instructions
To make lentil filling, heat oil in a 12-in (30 cm) ovenproof skillet* over medium heat. Add onions and sauté until most are nicely browned, about 8 to 10 minutes. Stir in garlic, thyme, rosemary and tomato paste and cook for 2 minutes, stirring frequently to prevent burning. Pour in red wine to deglaze skillet, stirring up any browned pieces from the bottom of skillet. Let wine cook down, stirring occasionally until mostly evaporated, about 3 minutes. Stir in lentils and vegetable broth. Increase heat to medium-high and bring mixture to a boil. Once boiling, reduce heat slightly to maintain a rapid simmer, and simmer until lentils are just tender and most liquid has been absorbed, about 25 to 30 minutes.
While lentils are cooking preheat oven to 375 F (190 C).
While oven preheats and lentils are cooking, start preparing mashed potato topping. Prepare a steamer by filling a large pot with about 1 to 2-in (2.5 to 5 cm) of water and place a steamer basket in bottom of pot. Add potatoes, cover and bring water to a boil over high heat. Once boiling, reduce heat to medium-high and continue to steam potatoes until fork tender, about 20 to 30 minutes.
When lentils are just cooked, reduce heat to low and stir in almond butter (or tahini), soy sauce, balsamic vinegar, pepper and ½ tsp (2.5 ml) salt until well incorporated. Remove from heat and set aside.
Transfer hot steamed potatoes to a large bowl along with butter, cheese and ½ tsp (2.5 ml) salt. Mash until smooth. If potatoes are too thick to pipe, mash in plant-based milk, 1 tbsp (15 ml) at a time (you should need no more than a ¼ cup (60 ml) total) until desired consistency is reached. If you like ultra -smooth potatoes, pass mixture through a fine mesh sieve. Spoon mashed potatoes into a piping bag fitted with a round tip, then pipe dollops over lentil filling, covering entire surface of lentils. Place ovenproof skillet in oven and bake until lentil filling starts to bubble around sides of skillet, about 20 minutes. If you like a crunchy potato topping, place skillet under broiler, keeping a close eye on it until crust is golden brown. Serve while warm.
*Lentil Shepherd's Pie can be cooked in cast iron pan or alternatively, transferred lentils to a 7-in x 11-in (about 2quart) casserole before piping potatoes over and baking.
Drink Pairings