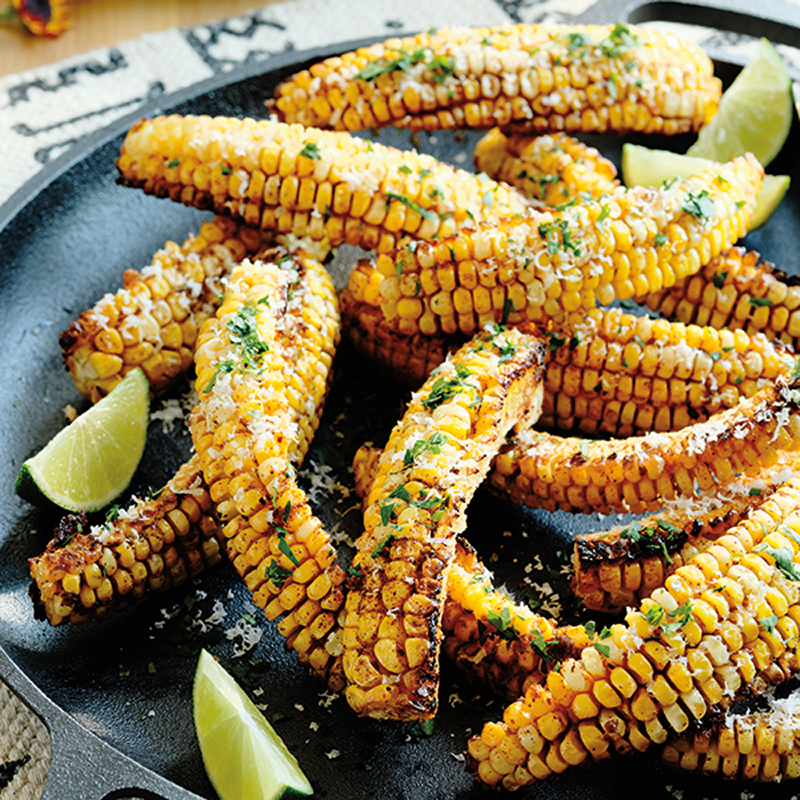 Lime & Parmesan Corn Ribs
Ingredients
Serves 6
2 tbsp (30 ml) grapeseed oil or avocado oil
½ tsp (2.5 ml) kosher salt
½ tsp (2.5 ml) garlic powder
¾ tsp (4 ml) smoked paprika
1 tsp (5 ml) finely grated lime zest
4 corn cobs, husks removed
3 tbsp (45 ml) finely grated Parmesan
2 tbsp (30 ml) roughly chopped fresh
cilantro leaves, for garnish
1 lime, cut into wedges, to serve
Instructions
Preheat oven to 375 F (190 C). Line a large baking sheet with parchment paper and set aside.
In a small bowl, whisk together oil, salt, garlic powder, smoked paprika and lime zest until well combined. Set spice mixture aside.
With a sharp knife, carefully cut each corn cob into quarters lengthwise. The best way to do this is to stand the cob up vertically, with the wider end against the work surface. Cut lengthwise through the cob, then lay each half on its flat side and cut lengthwise once again. If this is too difficult, chop cobs in half so that you end up with 8 pieces per cob instead of 4; if cobs are shorter, they are easier and safer to cut.
Lay corn on prepared baking sheet and brush each piece all over with spice mixture. Bake for 15 minutes, flip pieces over and return to oven until they start to curl slightly and begin to crisp, about 15 to 20 minutes more. While warm, transfer to serving plate and garnish with a sprinkle of Parmesan and cilantro. Serve with lime wedges.
Drink Pairings