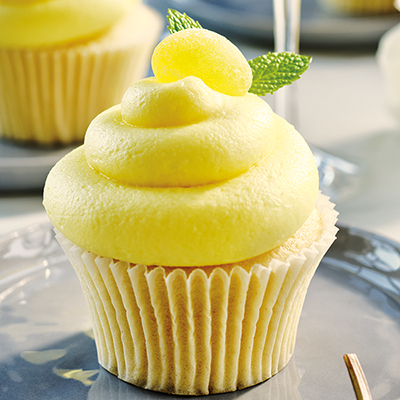 Ingredients
Serves 12
1½ cups (375 ml) all-purpose flour
1 tsp (5 ml) baking powder
½ tsp (2.5 ml) fine sea salt
½ cup (125 ml) unsalted butter, room temperature, divided
8 oz (227 g) cream cheese, room temperature, divided
1 cup (250 ml) granulated sugar
3 tbsp (45 ml) limoncello, divided
½ cup (125 ml) whole milk
1 tsp (5 ml) finely grated lemon zest
3 tbsp (45 ml) lemon juice
1 tbsp (15 ml) vanilla extract
3 cups (750 ml) icing sugar, sifted, plus extra as desired
yellow gel food colouring (optional)
mint leaves and lemon candies or lemon peel twist, for garnish (optional)
Instructions
Preheat oven to 350 F (180 C). Line a standard muffin tin with muffin liners and set aside.
In a medium bowl, whisk together flour, baking powder and salt. Set aside.
In bowl of a stand mixer fitted with paddle attachment, cream together ¼ cup (60 ml) butter, 2 oz (57 g) cream cheese and sugar on medium speed until light and fluffy, about 2 to 3 minutes, scraping down sides of bowl occasionally to ensure mixture is properly combined. Add eggs, one at a time, beating well after each addition. Beat in 2 tbsp (30 ml) limoncello. On low speed, alternately add flour mixture in thirds and milk in halves, beginning and ending with flour mixture. Add lemon zest and juice and vanilla and mix on low speed just until incorporated. Divide batter between lined muffin tins and bake until lightly golden brown and a wooden skewer inserted in centre comes out clean, about 20 to 30 minutes. Remove from tins and transfer to a wire rack to cool completely.
Meanwhile, make frosting. In bowl of a stand mixer fitted with paddle attachment, beat together remaining ¼ cup (60 ml) butter and 6 oz (170 g) cream cheese until light and fluffy. Beat in remaining 1 tbsp (15 ml) limoncello. Gradually add icing sugar on low speed, then increase speed to medium and beat until frosting is smooth, about 1 minute. If desired, colour frosting with a few drops food colouring. Adjust frosting consistency by adding a bit more icing sugar, if desired.
When ready to serve, pipe or spread frosting over cupcakes and decorate with mint leaves and a lemon candy or lemon peel twist, if desired. Cupcakes are best eaten the day they are assembled, but leftovers can be stored in an airtight container in refrigerator for up to 4 days.
Drink Pairings