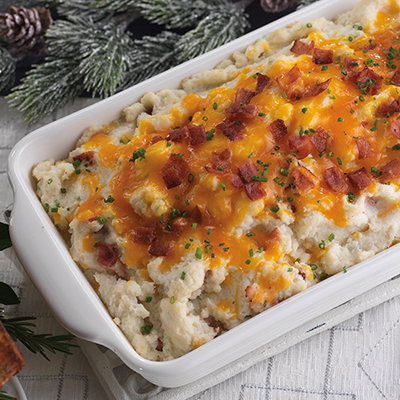 Ingredients
Serves 8 to 10
2 lbs (1 kg) cauliflower, trimmed and cut into florets, about 4 cups (1 L)
⅓ cup (75 ml) mascarpone cheese
salt and pepper, to taste
2 tbsp (30 ml) minced chives, divided
¾ cup (175 ml) shredded cheddar cheese, divided
6 strips bacon, cooked and chopped, divided
Instructions
Preheat oven to 350 F (180 C).
In a large microwave-safe baking dish with a lid, add cauliflower florets, garlic and water. Cover and microwave on high until cauliflower is tender, about 5 to 8 minutes. Drain any excess water from baking dish and let cauliflower sit uncovered for 4 minutes.
Place cauliflower with garlc clove in a food processor and process until only small chunks remain. Add mascarpone cheese, buttermilk, salt and pepper. Continue to process until mixture resembles consistency of mashed potatoes. Transfer to 8-in (1.2 L) baking dish and stir in 1½ tbsp (22 ml) minced chives, ½ cup (125 ml) cheddar and ¾ of chopped bacon. Top cauliflower mixture with remaining ¼ cup (60 ml) cheddar and bacon. Bake until cheese has melted, about 5 minutes. Garnish with remaining chives and serve warm.
Drink Pairings