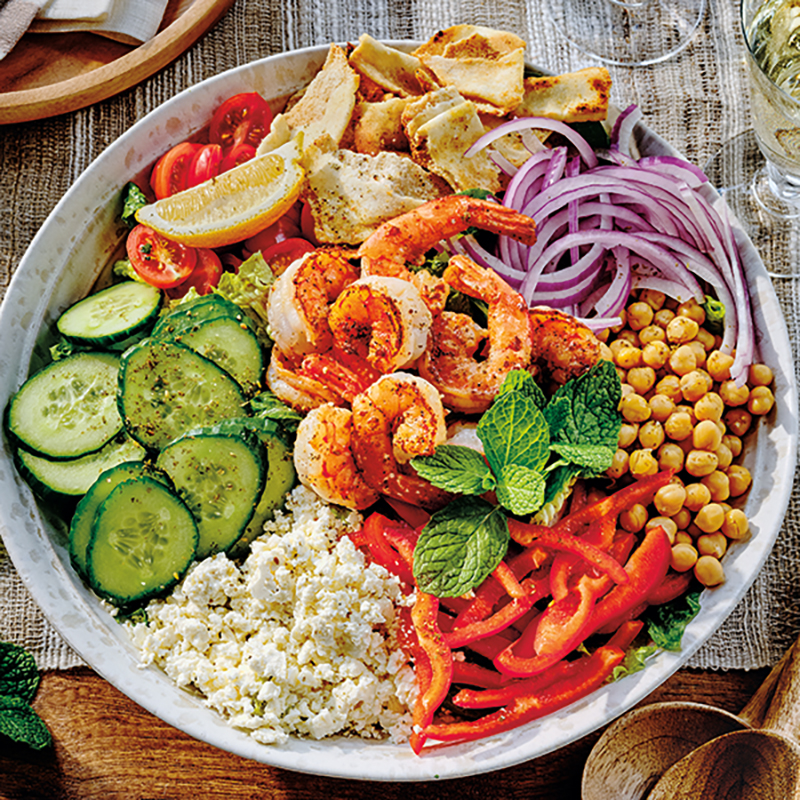 Loaded Fattoush Salad with Prawns
Light Middle Eastern Fair
Ingredients
Serves 2 to 3
1 large pita bread, torn into pieces
1 tsp (5 ml) garlic powder
4 cups (1 L) chopped romaine lettuce
1 cup (250 ml) cherry tomatoes, halved
1 red pepper, seeded and diced
1 x 19 oz (540ml) can chickpeas, rinsed
½ cup (125 ml) Macedonian feta, crumbled
1 cup (250 ml) mint leaves
1 cup (250 ml) parsley leaves
Salad Dressing, recipe follows
2 tbsp (30 ml) red wine vinegar
1 tsp (5 ml) za'atar spice
1 tsp (5 ml) honey (sweetener)
1 tbsp (15 ml) Dijon mustard
Instructions
Preheat oven to 375 F (190 C).
In a large mixing bowl, add pita, garlic powder, salt and olive oil. Toss to coat. Place on lined baking sheet and bake until golden brown, 10 to 12 minutes. Remove and set aside to cool.
In a large salad bowl, add romaine lettuce, cucumber, tomatoes, red pepper, onion, chickpeas, feta, mint and parsley. Set aside until ready to serve.
In a medium-sized skillet, heat butter over medium heat. Add garlic and stir until fragrant, about 30 seconds. Add prawns and cook on each side until cooked through and no longer opaque, 1 to 2 minutes per side. Set aside.
To make salad dressing, in a small mixing bowl, add lemon juice, red wine vinegar, za'atar, honey, garlic, Dijon and olive oil. Mix to combine. Toss salad with dressing and serve with prawns on top.
Drink Pairings