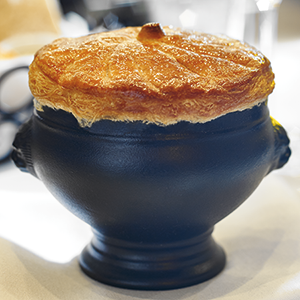 Ingredients
Serves 4 to 6
1 x 2 lbs (1 kg) whole lobster
3 tbsp (45 ml) canola oil
1 large yellow onion, sliced
1 garlic clove, thinly sliced
1 small carrot, peeled and diced
½ cup (125 ml) white wine
2 bsp (30 ml) tomato paste
freshly ground black pepper, to taste
½ cup (125 g) fennel, cut into large chunks
1 tbsp (15 ml) all-purpose flour
2 tbsp (30 ml) unsalted butter
1 cup (250 ml)whipping cream
2 sprigs thyme, leaves and stems included
3 sprigs parsley, stems only
½ cup (125 ml) whipping cream
freshly ground black pepper, to taste
LOBSTER BISQUE EN CROUTE:
2 tbsp (30 ml) each celery, carrots and leeks, diced
4 t bsp (60 ml) Crème Chantilly
all-purpose flour, to coat
1 egg yolk, beaten with milk to make an egg wash
Instructions
Prepare the POACHED LOBSTER, LOBSTER BASE, ROUX, BOUQUET GARNI, and CRÈME CHANTILLY the day before serving. Prepare the LOBSTER BISQUE EN CROUTE on the day of serving.
To make POACHED LOBSTER: Remove lobster gills and innards and set aside for later use. Poach lobster in simmering water for 5 ½ minutes. Remove and cool at room temperature. Remove lobster meat and dice into small chunks and refrigerate. Cut the shells into 4 pieces and reserve for later use.
To make LOBSTER BASE: I n a saucepan, heat oil until light smoke appears. Add lobster shells, innards and bouquet garni. Cook on high heat for 1 minute. Add onion, garlic, celery, leeks, fennel and carrots and cook on medium-high for 2 minutes. Add white wine and brandy.
Increase heat to 'flambé' and reduce liquid by one-quarter.
Add tomatoes and tomato paste, and cook on medium heat for 2 minutes. Add fish stock and bouquet garni. Bring to a boil, reduce heat and let simmer for 1 hour.
Season with black pepper, lemon juice and cayenne pepper. Discard bouquet garni and strain through a fine mesh strainer.
To make ROUX: Mix flour and butter with hands to create a smooth dough beurre manié (kneaded butter). In a pot, bring cream, lobster base and salt to a boil. Divide beurre manié into 6 parts and slowly whisk in evenly. Simmer for 15 minutes. Strain through a fine mesh strainer, making sure that no clumps remain. Refrigerate overnight.
To make BOUQUET GARNI: Wrap all ingredients in cheesecloth and set aside.
To make CRÈME CHANTILLY: In a mixing bowl, combine whipping cream, kosher salt, black pepper and brandy Whisk until soft. Fold in tarragon. Cover with plastic wrap and refrigerate until ready to use.
To make LOBSTER BISQUE EN CROUTE: Pre-heat oven to 420 F (220 C). Add vegetables and diced lobster to 4 oven-safe serving bowls. Fill each bowl with lobster base to ¾ full. Do not fill to the top or it will boil over when baked. Add 1 dollop of Crème Chantilly.
Roll out puff pastry and cut into circles a bit larger than the serving bowls for the bisque. Dust your hands with flour. Cover top of soup with puff pastry. Press puff pastry tightly against rim of each bowl to seal. Brush pastry with egg wash.
Bake for approximately 12 minutes, until pastry is golden brown and soup is hot. You can check temperature of soup with a cake tester by piercing the top of the puff.
Drink Pairings