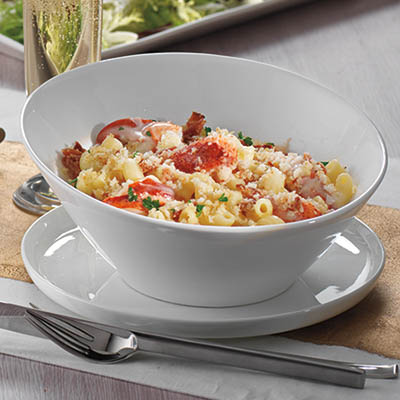 LOBSTER MAC AND CHEESE WITH BACON CROUTON CRUST
Ingredients
Serves 6 to 8
3 tbsp (45 ml) unsalted butter, melted
1 lb (500 g) cavatappi (double elbow or scoobi doo) pasta
¼ cup (60 ml) unsalted butter
½ cup (125 ml) all-purpose flour
3 cups (750 ml) grated Gruyère cheese
1 cup (250 ml) grated Romano or Parmesan
2 cups (500 ml) grated extra-sharp cheddar
½ tsp (2 ml) freshly ground black pepper
½ tsp (2 ml) ground nutmeg
1 ½ lbs (750 g) cooked lobster meat, ½ -in (.5 cm) diced
Instructions
Fry bacon over medium-high heat until semi-crisp. Drain and coarsely chop. Add croutons to a food processor and pulse until coarse but not fine. Transfer to bowl, add chopped bacon and melted butter. Mix well and set aside.
Preheat oven to 375 F (190 C). Bring a pot of salted water to a boil and cook pasta until al dente according to package directions. Drain well.
Heat milk in a saucepan over medium heat, until scalding. Do not allow to boil. Set aside. In a large pot, melt butter over low heat. Whisk in flour and cook for 2 minutes, stirring constantly. While whisking, slowly add milk and cook for 1 to 2 minutes, until thickened and smooth. Remove from heat and mix in cheese and spices. Stir until cheese melts. Stir in cooked pasta and lobster.
Divide and pile the mixture into 6 to 8 2-cup (500 ml) casserole or ramekin dishes. Place dishes on baking sheet. Sprinkle bacon crumb mixture on top of pasta. Bake for 30 to 35 minutes, or until sauce is bubbly and golden on top.
Drink Pairings