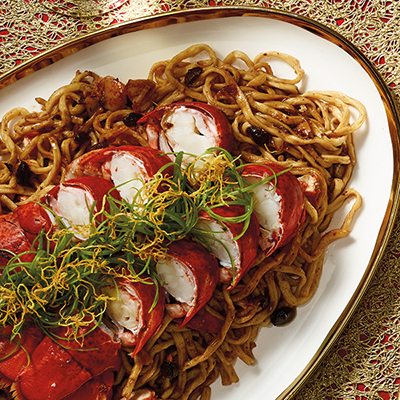 Ingredients
Serves 4 to 6
2 x 2 lb (1 kg) whole live lobsters (Alternately, have your fishmonger cook the lobster for you and begin at step 2)
2 tbsp (30 ml) vegetable oil
2 tbsp (30 ml) minced ginger, plus fried julienned ginger, for garnish
2 tbsp (30 ml) minced garlic
1 x 10 oz (300 g) package yee-mein (longevity) noodles, boiled per package instructions, then drained
¼ cup (60 ml) black bean sauce
2 tbsp (30 ml) Shaoxing cooking wine
4 green onions, thinly sliced on the bias
Instructions
If cooking lobster yourself, bring a large pot of salted water to a boil. Add lobsters and cook over high heat for 14 minutes (2 minutes per pound). Remove lobsters from water and immediately place in an ice bath until completely chilled. Once lobsters have chilled, twist off heads and save for another use.
Cut tails into 1-in (2.5 cm) slices and set aside. Remove meat from claws and chop meat into small chunks, then set aside.
Heat a wok over medium-high heat. Add vegetable oil, then ginger and garlic, and stir-fry until fragrant, about 30 seconds.
Add yee-mein noodles, black bean sauce, soy sauce, sugar and cooking wine. Stir-fry until noodles are hot and evenly mixed with sauce. Add chopped lobster claw meat and mix until combined.
Transfer noodles to a warm serving platter.
Return wok to heat and add sliced lobster tail. Add 2 tbsp (30 ml) water to wok and cover with a lid. Heat lobster slices just until warmed through, then toss with any remaining liquid in the wok. Arrange lobster slices over noodles and garnish with green onions and crispy ginger.
Drink Pairings