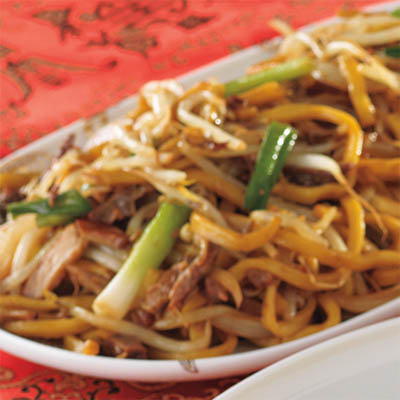 Ingredients
Serves 4 to 6
3 tbsp (45 ml) dark soy sauce
2 tbsp (30 ml) light soy sauce
2 tbsp (15 ml) oyster sauce
1 lb (500 g) fresh Shanghai wheat noodles or any other long Chinese noodles
2 tbsp (30 ml) canola oil
1 large knob ginger, about 1½-in (3.75 cm) finely minced
1 garlic clove, finely minced
1 medium onion, thinly sliced
½ lb (250 g) Chinese barbecued pork, cut into thin juliennes, about 2-in (5 cm) long
3 cups (750 ml) bean sprouts, rinsed and dried well
5 green onions, trimmed and cut into 1-in (2.5 cm) lengths
Instructions
In a bowl, mix together soy sauces, oyster sauce and sugar. Set aside.
In a large pot of salted boiling water, cook noodles according to package instructions or until barely tender to the bite. Drain.
Heat a large non-stick wok over high heat. Add oil. When it starts to simmer, add ginger and garlic and stir until fragrant. Add onion and barbecued pork, stir-fry for a couple minutes or until onions start to soften. Add bean sprouts, green onions and noodles. Mix well and drizzle over soy mixture. Toss well until heated thoroughly. Serve immediately.
Drink Pairings