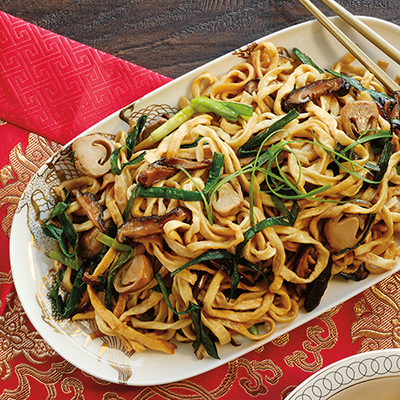 LONG LIFE NOODLES WITH MUSHROOMS
Ingredients
Serves 4 to 6
¼ cup (60 ml) oyster sauce
1 tbsp (15 ml) vegetable oil
2 tbsp (30 ml) minced garlic
1 cup (250 ml) shiitake mushrooms, stems removed and thinly sliced
1 x 15 oz (425 g) can straw mushrooms, halved
1 cup (250 ml) Chinese chives, cut into 1-in (2.5 cm) pieces
2 tbsp (30 ml) Shaoxing cooking wine
1 x 10½ oz (300 g) package yi mein noodles
2 green onions, julienned
Instructions
Cook yi mein according to package instructions and drain well. Set aside.
Mix together oyster sauce, soy sauce and sugar. Set aside.
Heat a wok over high heat. Add vegetable oil, butter and garlic and stir-fry just until fragrant, about 5 seconds. Add shiitake and straw mushrooms and stir-fry until cooked and lightly browned, about 3 to 4 minutes. Add chives and stir-fry just until chives are cooked, about 1 minute.
Add cooking wine and mix, then add yi mein and sauce mixture. Stir-fry until noodles are hot and evenly mixed with sauce.
Transfer noodles to a warm serving platter and garnish with green onions.
Drink Pairings