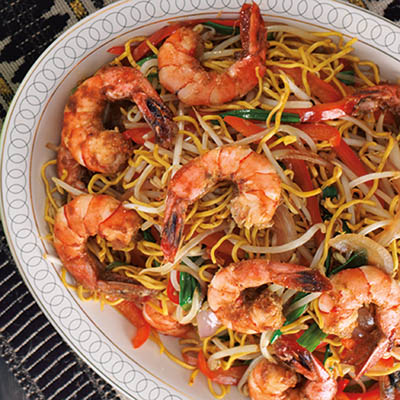 LONG LIFE NOODLES WITH PRAWNS
Ingredients
Serves 4 to 6
½ lb (250 g) raw Tiger prawns, peeled and deveined
1 red thai chili, seeded and finely chopped
3 garlic cloves, 1 smashed, 2 finely slic
1 bunch cilantro, leaves and stems separated, coarsely chopped, divided
1 tbsp (15 ml) brown sugar
2 tbsp (30 ml) light soy sauce, divided
2 tbsp (30 ml) canola oil, divided
1-in (2.5 cm) ginger knob, peeled, finely julienned
1 red pepper, finely julienned
8 green onions, cut into 2-in (5 cm) julienned
1 lb (500 g) bean sprouts, rinsed and drained well
½ lb (250 g) packaged, prepared thin egg noodles
2 tbsp (30 ml) dark soy sauce
1 tbsp (15 ml) oyster sauce
Instructions
Place prawns in a mixing bowl. In a spice grinder or small food processor, add chili, garlic, cilantro stems and brown sugar. Process until well blended. Pour over prawns along with half the lime juice and light soy sauce. Mix well to coat. Set aside for about 30 minutes, stirring occasionally.
In a wok or skillet, heat 1 tbsp (15 ml) oil over high heat. Remove prawns from marinade with a slotted spoon, setting marinade aside, and add prawns to wok. Toss for 1 to 2 minutes until prawns turn pink. Set aside.
Heat remaining 1 tbsp (15 ml) oil in a wok. Add ginger and onions and fry for about 30 seconds, until fragrant. Add red peppers and green onions and fry for 1 minute, until starting to soften. Add bean sprouts and toss together until sprouts start to wilt. Add noodles and toss to mix well, along with dark soy sauce, oyster sauce and reserved marinade. Add prawns, remaining lime juice and chopped cilantro leaves, reserving some for garnish, and mix well. Garnish with remaining cilantro.
Drink Pairings