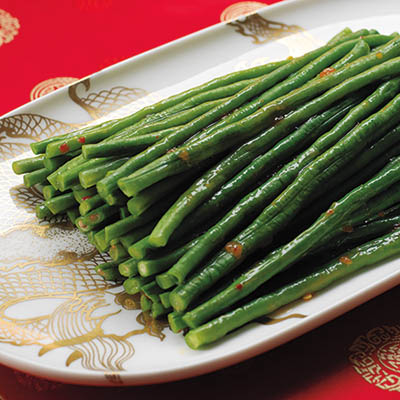 Ingredients
Serves 4
1 tbsp (15 ml) Sambal chili sauce
1 tsp (5 ml) each, soy sauce and fish sauce
tbsp (15 ml) granulated sugar
¼ cup + 3 tbsp (105 ml) water, divided
2 tbsp (30 ml) vegetable oil
1 shallot, peeled and minced
1 lb (500 g) Chinese long beans, cut in half
Instructions
In a bowl, combine Sambal, soy sauce, fish sauce, sugar, cornstarch and ¼ cup (60 ml) water. Stir to blend and set aside.
Heat oil in a wok or a large, heavybottomed saucepan over medium heat. Add garlic and shallot and sauté for 20 seconds. Add long beans and stir-fry for about 1 minute. Add 3 tbsp (45 ml) water and cover with lid. Cook for about 2 minutes.
Add Sambal sauce mix and cook until cornstarch is cooked through and beans are nicely glazed, about 2 minutes. Serve immediately.
Drink Pairings