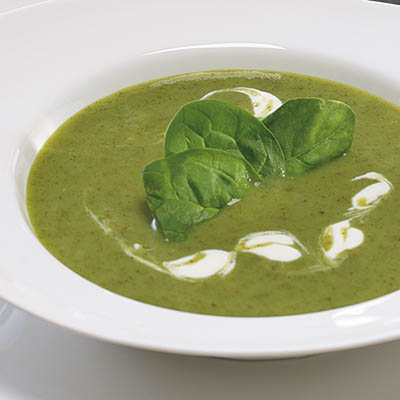 LOVAGE SOUP WITH BABY SPINACH
Ingredients
Serves 6
1 tbsp (15 ml) extra-virgin olive oil
1 tbsp (15 ml) unsalted butter
4 large garlic cloves, chopped
2 large russet potatoes, peeled and diced
2-in (5 cm) piece Parmesan rind (optional)
3 cups (750 ml) chicken stock
¾ cup (175 ml) chopped fresh lovage leaves
2½ cups (625 ml) lightly packed baby spinach
salt and freshly ground white pepper, to taste
1½ cups (375 ml) baby Swiss chard leaves, washed and spun dry
2 tbsp (30 ml) thick plain Greek yogurt (optional)
Instructions
Heat oil and butter in a large, heavy- bottomed saucepan with a tight-fitting lid. Add onion and sauté over medium-high heat until soft and almost clear, about 5 minutes. Be careful not to brown onions.
Add garlic and potatoes and stir in to coat with oil and onions. Add Parmesan rind, if using, and stock and bring to a boil. Reduce heat, cover and simmer until potatoes are tender, 15 to 20 minutes.
Add lovage and 2cups (500ml)spinach and simmer for 5 minutes or until tender. Remove Parmesan rind. Purée using a hand held blender or whirl in a blender or food processor until smooth. Add salt and pepper to taste.
Pour soup into bowls and place a small truss of baby spinach leaves in centre of each. Swirl each with 1 tsp (5 ml) yogurt and serve.
Drink Pairings