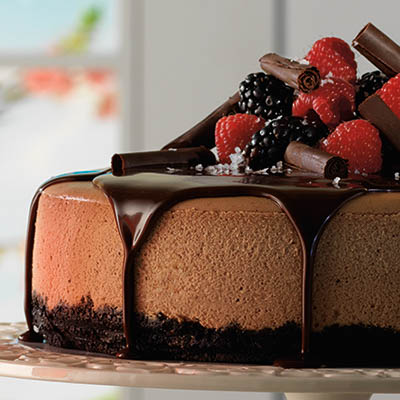 LUSCIOUS TRIPLE CHOCOLATE CHEESECAKE WITH ESPRESSO GLAZE
Ingredients
Serves 16
1 x 200 g package chocolate wafers
¼ cup (60 ml) granulated sugar
⅓ cup (75 ml) unsalted butter, melted
8 oz (250 g) milk chocolate, chopped
4 x 250 g packages plain cream cheese, at room temperature
½ cup (125 ml) full fat sour cream
1 cup (250 ml) granulated sugar
4 eggs, at room temperature
2 tsp (10 ml) vanilla extract
4 oz (125 g) specialty dark chocolate, chopped
½ tsp (2 ml) instant espresso powder
½ cup (125 ml) whipping cream
2 tbsp (30 ml) golden corn syrup
chocolate cake curls, for garnish
blackberries and raspberries, for garnish
flaked sea salt, for garnish
Instructions
In a food processor, pulse wafers until coarse crumbs form. Add sugar and continue to pulse until crumbs are fairly fine. Transfer to a large bowl along with melted butter. Stir to evenly blend. Spray sides and bottom of a 9-in (23 cm) springform pan with cooking spray. Line with parchment paper. Press chocolate cookie mixture into bottom of pan in an even layer. Refrigerate while preparing remaining ingredients.
Preheat oven to 325 F (160 C). To make FILLING: Place milk chocolate in a microwave-safe bowl and heat for 1 minute. Give it a stir and microwave a little longer, or just until almost melted with a few pieces remaining. Stir until completely melted and set aside. Alternatively, place in a double boiler over simmering water and stir until smooth, then set aside.
In a large electric mixer bowl, beat cream cheese until smooth, occasionally scraping down sides. Make sure cream cheese is at room temperature, or it will not blend smoothly. Add sour cream and sugar, and continue to beat until sugar is blended. Beat in eggs, one at a time, until smooth. Mix in cinnamon, vanilla and orange zest. Pour over chilled crust in springform pan.
To prevent cheesecake from cracking during baking, wrap cheesecake pan in a large sheet of foil that extends halfway up the sides. Then place pan in a large roasting pan or lasagna dish. Fill roasting pan or dish with ½-in (1.25 cm) hot water. Gently place in preheated oven and bake for 40 to 60 minutes, until cake is fairly firm when jiggled. (Cake will fully settle when chilled.) Remove cheesecake from water bath and remove foil. Set on a rack to cool. Refrigerate, uncovered, until cool, about 3 hours. Then cover and refrigerate overnight. To remove sides of pan, run the thin blade of a knife around the inside edges of pan and remove sides.
To make GLAZE: Place dark chocolate in a small, heavy-bottomed saucepan. Add espresso powder, cream and corn syrup. Bring to a low simmer and stir until chocolate is melted. Cool slightly. Place cake on a platter. When ready to serve, pour a little cooled Espresso Glaze over cake and garnish with chocolate curls and fresh berries. Drizzle with remaining sauce and sprinkle with a few flakes of salt and serve.
Drink Pairings