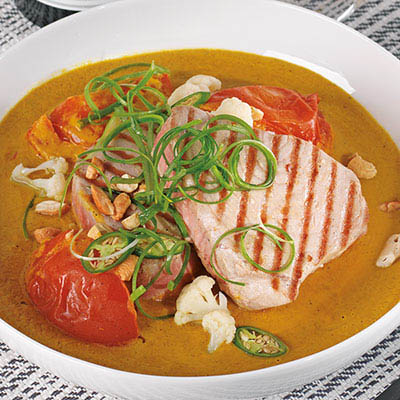 MAHI MAHI WITH TURMERIC CURRY
Ingredients
Serves 4
2 tbsp (30 ml) ground coriander
1 tbsp (15 ml) ground cumin
1 tsp (5 ml) whole mustard seeds
4 tbsp (60 ml) vegetable oil, divided
2 medium yellow onions, diced
1 tbsp + 2 tsp (15 ml + 10 ml) salt, divided
1 tbsp (15 ml) chopped garlic
1 to 4 serrano chilies, chopped, or to taste based on preferred spice level, plus 1 sliced for garnish (optional)
3 tbsp (45 ml) chopped fresh ginger
¼ cup (60 ml) chopped fresh turmeric (or 2 tbsp (30 ml) turmeric powder)
4 tsp (20 ml) tamarind paste
2 tsp (10 ml) garam masala
4 cups (1 L) fish or vegetable stock
¼ cup (60 ml) cashews, soaked overnight in water then drained
8 x 3 to 4 oz (90 to 125 g) mahi mahi fillets
½ cup (125 ml) cauliflower florets, blanched
1 green onion, julienned and placed in cold water to curl
2 tbsp (30 ml) toasted cashews, crushed
Naan, make ahead, recipe follows
1¼ oz (7 g) package active dry yeast
¾ cup (175 ml) warm water
2 cups (500 ml) all-purpose flour
Instructions
In a small frying pan over medium heat, toast ground coriander, ground cumin and mustard seeds until fragrant and mustard seeds start to pop. Put spices in a bowl once toasted, do not leave in pan as they will burn.
In a medium to large saucepan, heat 2 tbsp (30 ml) oil over medium-low heat. Add onions and 1 tbsp (15 ml) salt and cook until onions are golden brown, stirring frequently while cooking. Add garlic and chilies and cook for an additional 5 minutes. Add chopped tomatoes, ginger, turmeric, tamarind paste and garam masala and cook for an additional 15 minutes. Add stock and bring to a boil, reduce heat and simmer for 20 minutes.
In a blender, pour in curry and cashews and blend for 3 to 8 minutes (depending on power of blender) until smooth and thick. Transfer curry into a clean pot, taste and adjust seasoning.
Pat dry mahi mahi fillets with paper towel and season with remaining 2 tsp (10 ml) salt and pepper and remaining 2 tbsp (30 ml) vegetable oil. Heat non-stick grill pan over medium-high heat until hot. Add mahi mahi and cook for 3 to 4 minutes on each side, until golden brown and cooked through.
To serve, place ½ cup (125 ml) curry in each bowl and top with 2 mahi mahi fillets per serving. Garnish with green onion, blanched cauliflower, sliced serrano chili (optional) cilantro and toasted cashews. Serve with hot naan.
To make NAAN: In a bowl, add yeast to warm water and let sit until yeast has dissolved, about 5 minutes.
In a medium-sized mixing bowl, mix flour, sugar and salt. Add yeast and water mixture, yogurt and olive oil. Mix with hands or a wooden spoon just until blended and a shaggy dough has formed. Fold dough over itself in bowl about 8 to 10 times (dough will be too loose to knead). Cover bowl with plastic wrap and let rise at room temperature for 1 hour, or refrigerate overnight.
Once dough has risen, punch it down and divide into 8 pieces. On a heavily floured board, with a rolling pin, roll each piece flat, about ½-in (1.25 cm) thick. Heat a heavy-bottomed frying pan over medium-high heat. Take 1 naan and dust off excess flour. Place in frying pan and cook for about 1 to 2 minutes. Naan will bubble up. Flip when golden brown. Cook other side for about 1 to 2 minutes. Place naan in a towel-lined bowl or basket. Repeat with remaining naan and serve hot. Makes 8 naan.
Drink Pairings