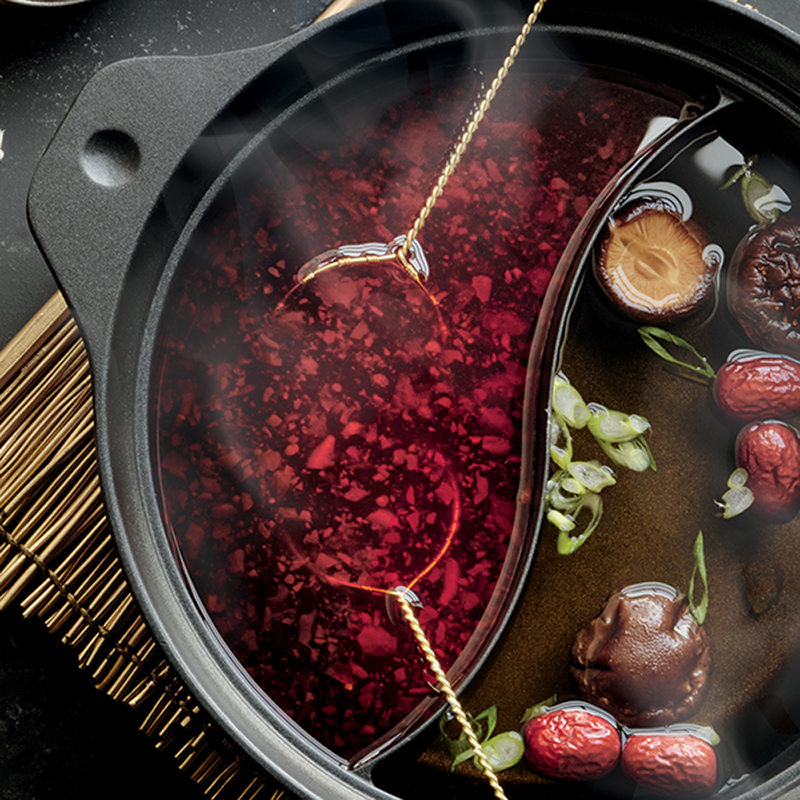 Ingredients
Serves 7 cups of broth
½ cup (125 ml) vegetable oil
2-in (5 cm) piece ginger, thinly sliced
4 garlic cloves, roughly chopped
4 green onions, trimmed and each cut into 3 pieces
1 tbsp (15 ml) white peppercorns
¼ cup (60 ml) Szechuan peppercorns
¼ cup (60 ml) dried whole chilis, or to taste
2 tbsp (30 ml) ground chili powder, or to taste
½ tsp (2.5 ml) fennel seed
1 small stick cassia bark or cinnamon stick
1 cup (250 ml) fermented chili bean paste (doubanjiang)
½ cup (125 ml) Shaoxing cooking wine
4 dried shiitake mushrooms
6 cups (1.5 L) chicken stock
Instructions
In a heavy-bottomed saucepan, heat oil over medium heat. Once hot, add ginger, garlic and green onion and cook for about 1 minute, until fragrant.
Add white and Szechuan peppercorns, dried chilis, chili powder, star anise, fennel seed, cassia, bay leaves and chili bean paste. Cook for another 1 to 2 minutes, or until fragrant.
Add remaining ingredients and simmer for 30 minutes. Remove and discard ginger, green onions, cassia and bay leaves. If making ahead, let cool to room temperature and store in refrigerator for up to 3 days. If serving right away, transfer to hot pot and follow serving instructions for main recipe.
Drink Pairings