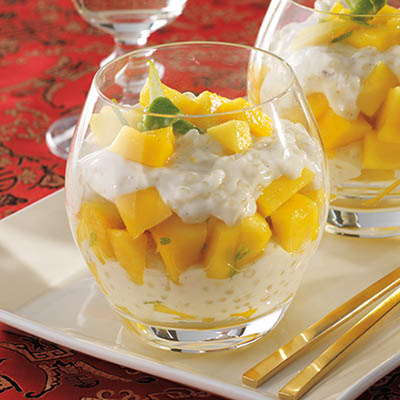 MANGO, TAPIOCA AND COCONUT PUDDING
Ingredients
Serves 6
½ cup (125 ml) small pearl tapioca
2½ cups (625 ml) whole milk
½ vanilla bean, halved lengthwise, seeds scraped out
1 14 oz (398 ml) can unsweetened coconut milk
3 cups (750 ml) peeled and ½-in (.5 cm) diced mango
1 tbsp (15 ml) fine-grated lime zest
3 tbsp (45 ml) fresh lime juice
Instructions
In a large saucepan, mix together tapioca, milk, vanilla bean and seeds and salt. Heat over medium heat to simmer and cook, whisking occasionally, until the pearls are tender and translucent, about 20 minutes. Stir in coconut milk.
In a bowl, whisk egg yolks with sugar. Slowly whisk in a steady stream with half of the warm tapioca mixture. Whisk well to mix and pour egg yolk mixture back into the remaining tapioca in saucepan. Cook over medium heat, stirring until thickened, about 5 minutes. Transfer to a bowl and let cool to room temperature, discarding vanilla bean.
In a medium bowl, mix together mango, lime zest and juice. Transfer half of the mixture to a food processor and puree until smooth. Stir the puree into diced mango.
Divide half of the fruit into 6 serving glasses, top with the tapioca pudding, then top with the remaining mango mixture. Cover the puddings with plastic wrap and refrigerate for about 2 hours, or until chilled.
Drink Pairings