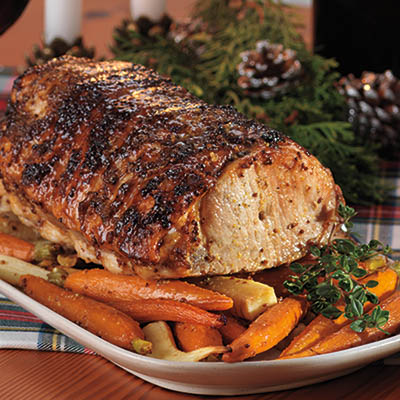 MAPLE AND MUSTARD PORK ROAST (WITH MAPLE ROASTED VEGETABLES)
Ingredients
Serves 8
8 cups (2 L) water, divided
3/4 cup (175 ml) maple syrup, divided
½ cup (125 ml) kosher salt
4-lb (2 kg) boneless pork loin roast, trimmed to leave a thin layer of fat
⅓ cup (85 ml) wholegrain mustard
1 tsp (5 ml) freshly ground black pepper, or more to taste
MAPLE ROASTED VEGETABLES:
1 tbsp (15 ml) maple syrup
1 tbsp (15 ml) wholegrain mustard
1 lb (500 g) carrots, peeled and cut into sticks
1 lb (500 g) parsnips, peeled and cut into sticks
Instructions
To make BRINE: In a saucepan, combine 2 cups (500 ml) of water with maple syrup and salt and bring to a boil over high heat, stirring to dissolve salt. Add remaining water and cool to room temperature. Transfer brine to a large container, add pork, cover and refrigerate for at least 8 hours.
Position a rack in centre of oven and heat oven to 450 F (230 C).
Drain pork and pat dry with paper towels. Set a flat roasting rack in the middle of a roasting pan and add 1 cup (250 ml) of water to the pan. Place the roast on rack.
In a bowl, mix maple syrup, mustard and pepper, set aside half in a small bowl for serving.
Roast pork until crust just starts to brown, about 20 to 25 minutes. Reduce heat to 350 F (175 C) and continue cooking until thermometer inserted into the thickest part of the roast registers 140 F (60 C), 30 to 50 minutes more. As it rests, the internal temperature will rise to 145 to 150.
Let rest for 10 minutes and thinly slice. Serve with roasted vegetables and a drizzle of reserved maple syrup mixture.
To make MAPLE ROASTED VEGETABLES: Pre-heat oven to 400 F (200 C). Line a baking sheet with parchment paper and set aside.
In a large bowl, combine olive oil, maple syrup and mustard. Stir well to combine, then add carrots and parsnips. Toss to coat.
Transfer vegetables to baking sheet and spread vegetables in one layer. Season with salt and freshly ground black pepper to taste. Roast until vegetables are cooked through and caramelized, 15 to 20 minutes depending on size, stirring halfway through.
Drink Pairings