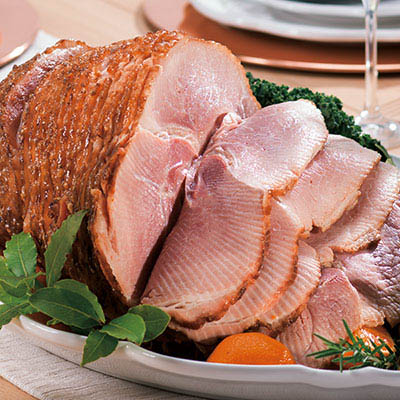 MAPLE AND ORANGE-GLAZED SPIRAL HAM
Ingredients
Serves 8
8 to 10 lb (3.6 to 4.5 kg) bone-in, smoked spiral ham
1 cup (250 ml) light brown sugar
1 tbsp (15 ml) Dijon mustard
⅔ cups (175 ml) maple syrup
1 cup (250 ml) orange juice
Instructions
Remove ham from packaging and place flat side down in a slow cooker large enough to accommodate it.
In a small bowl, stir together brown sugar, orange zest and Dijon. Rub sugar mixture all over outside of ham before drizzling with maple syrup and orange juice.
Cover slow cooker and cook on low heat until ham is heated through, about 2½ to 3 hours. Spoon juices over ham and continue to cook on low for an additional 30 minutes. Remove ham from slow cooker, brush with some remaining glaze and transfer to a serving platter. Serve with additional glaze alongside, if desired.
Drink Pairings