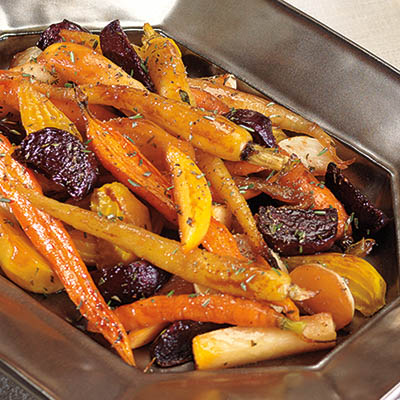 MAPLE AND TAMARI- ROASTED ROOT VEGETABLES
Ingredients
Serves 8
4 turnips, trimmed, cut into 8 wedges
1 rutabaga, trimmed, cut into rectangles
6 carrots, trimmed, halved lengthwise
3 parsnips, trimmed, quartered lengthwise
5 each golden and red beets, trimmed, quartered lengthwise
2 tbsp (30 ml) pure maple syrup
1 tbsp (15 ml) white wine vinegar
¼ cup (60 ml) extra-virgin olive oil
1 tbsp (15 ml) chopped fresh thyme
1 tbsp (15 ml) chopped fresh rosemary
salt and pepper, to taste
Instructions
Arrange oven racks in top and bottom third of oven before preheating to 425 F (220 C).
Fill a large saucepan with water, season with a couple generous pinches of salt and bring to a boil over high heat. Blanch turnips until barely tender, 1 minute. Using a slotted spoon, transfer turnips to a baking sheet. Repeat blanching with rutabaga before reducing heat to medium-high. Add carrots and parsnips to saucepan and simmer until barely tender, 3 minutes. Using a slotted spoon, transfer to baking sheets with turnips and rutabaga. Add yellow beets to saucepan and simmer until just tender, 5 minutes. Transfer to baking sheet and repeat with red beets. Allow all vegetables to cool for 10 minutes. Discard cooking water.
Whisk together tamari, maple syrup and vinegar. Set aside.
In a large bowl, toss vegetables with oil, thyme and rosemary before seasoning with salt and pepper. Spread vegetables in an even layer on 2 large baking sheets. Roast for 15 minutes. Drizzle vegetables with tamari mixture and continue to roast until vegetables are browned, another 15 to 20 minutes. Transfer vegetables to a platter and serve warm.
Drink Pairings