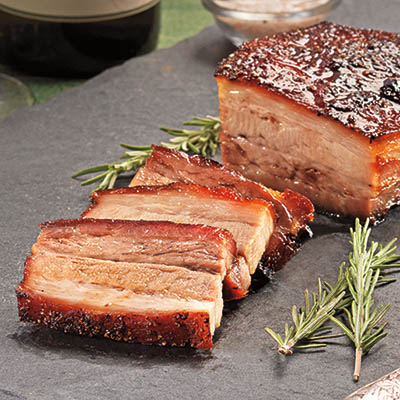 Ingredients
Serves 6
1 lb (454 g) pork belly, skinned
4 tsp (20 ml) each of salt and maple syrup
freshly ground black pepper
Instructions
Rub pork with bourbon, salt, maple syrup and pepper. Place on a baking sheet in refrigerator and let sit overnight.
Preheat oven to 450F (230C). Place pork belly on a rack on a shallow baking sheet, fat-side up, and roast for 15 minutes. Reduce heat to 275 F (140 C) and bake for 11⁄2 hours or until you can pierce pork easily with a knife. Remove pork from oven, place on a rack and cool to room temperature. Wrap pork in plastic wrap and refrigerate overnight.
To serve, preheat oven to 350F (180C). Bring pork to room temperature and cut into thick slices. Place on a parchment-lined baking sheet and heat in oven until warmed through, about 10 minutes. Serve with your favourite brunch accompaniments.
Drink Pairings