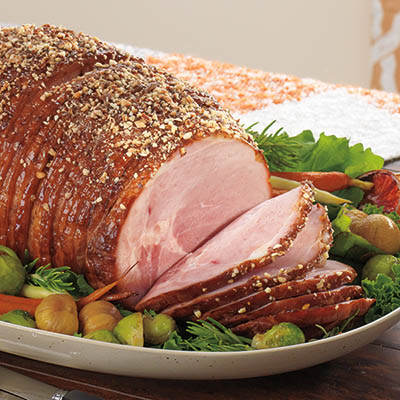 MAPLE CINNAMON-SPICED GLAZED HAM
Ingredients
Serves 12
8¾ lb (4 kg) cured bone-in or boneless ham leg roast
2 cups (500 ml) maple syrup
2 tbsp (30 ml) canola oil
1 tbsp (15 ml) ground ginger
1 tbsp (15 ml) apple cider vinegar
1 tsp (5 ml) whole cloves
½ cup (125 ml) coarsely ground raw almonds, for crust
roasted vegetables, to serve
Instructions
Preheat oven to 325 F (170 C).
Using a sharp knife, slice away skin from fat layer of roast. (Alternatively, ask butcher to remove skin from meat.) Gently score fat in a crisscross diamond design making sure score marks are no deeper than ⅛-in (0.25 cm). Roast should split apart only slightly during baking to allow glaze to evenly coat meat. Place roast on a rack in a shallow roasting pan.
In a small saucepan, add remaining ingredients except ground almonds. Bring to a gentle boil and simmer for 5 minutes for flavours to blend and mixture to become syrupy. Strain sauce to remove cloves. Brush half the sauce over top and sides of roast. Set remaining sauce aside and keep warm.
Bake roast in centre of preheated oven for 18 to 20 minutes per lb (500 g), or until a meat thermometer inserted into meat registers 140 F (60 C). Baste with sauce a few more times during roasting. (An 8¾ lb (4 kg) roast should take about 2½ hours.) 20 minutes before roast is done, sprinkle with ground almonds to form a nice crust.
Remove from oven and let roast rest for 10 minutes before slicing and transferring to a heated platter. Garnish platter with roasted vegetables and leafy greens and serve with starch of choice.
Drink Pairings