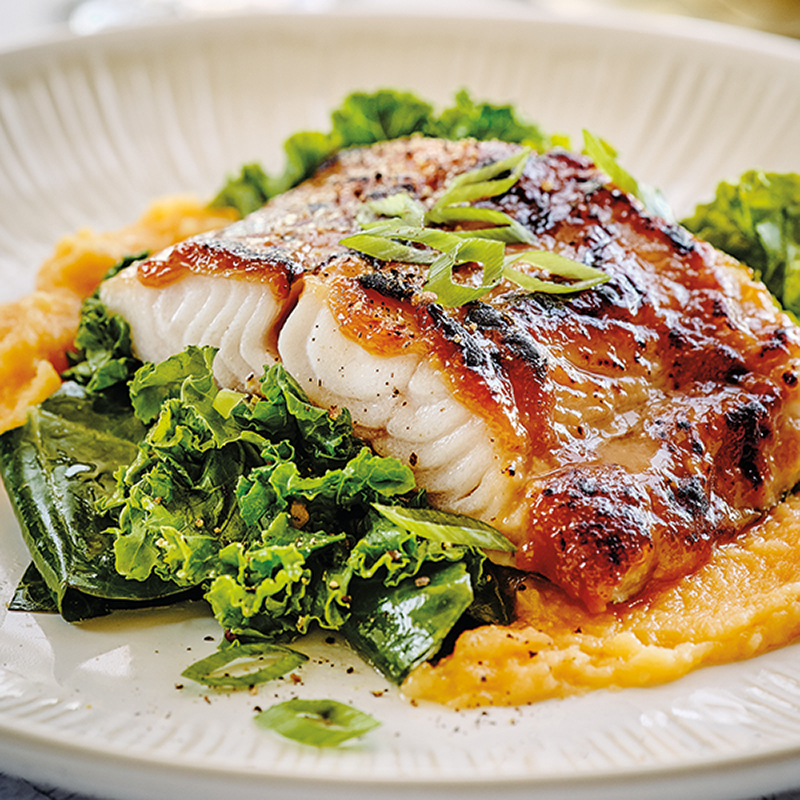 Maple Miso Brûlée Sablefish
While we all know and love a good crème brûlée, there is so much more that we can do with the simple brûlée cooking technique. Why should sweets get all the fun? You can brûlée your main, too!
Ingredients
Serves 4
1½ tsp (7 ml) kosher salt, divided, plus extra for seasoning greens
½ cup (125 ml) maple syrup
¼ cup (60 ml) sake or white wine
⅓ cup (75 ml) unsalted butter, cut into chunks
¼ tsp (1 ml) ground white pepper
1½ lbs (750 g) sablefish, cut into 6 oz (180 g) fillets, skin on or off
1 tbsp (15 ml) grapeseed oil
4 cups (1 L) packed, roughly chopped fall greens, such as kale, collard greens or Swiss chard, to serve
1 green onion, finely sliced, for garnish
Instructions
To make rutabaga purée, peel rutabaga and cut into 1-in (2.5 cm) chunks. Place in a large saucepan, cover with water and sprinkle with 1 tsp (5 ml) salt. Place saucepan over medium-high heat and bring to a boil. Reduce heat to medium-low, cover and simmer until fork-tender, about 25 to 30 minutes.
While rutabaga cooks, preheat broiler with racks set about 5-in (12 cm) from heat source. In a small saucepan, whisk together maple syrup, miso, mirin and sake (or white wine) over medium heat, whisking constantly, until almost at a boil, about 5 minutes. Transfer sauce to a blender and blend until smooth. Transfer sauce to a bowl and set aside.
Drain rutabaga and return to saucepan, allowing to dry out slightly over residual heat from heating element. Add rutabaga to a blender or food processor along with butter, remaining ½ tsp (2.5 ml) salt and pepper. Pulse until desired texture is achieved. Return purée to saucepan, cover and set aside.
Place sablefish fillets, skin-side down, in an ovenproof baking dish or skillet, and spoon half reserved sauce over fish. Broil, watching carefully, until sauce bubbles and begins to brown. Spoon remaining half of sauce over fish. Continue to broil until fish is just cooked through, adjusting heat or rack position if sauce or fish is browning too quickly, about 5 to 8 minutes. An easy way to test doneness of fish is to insert a thin-bladed knife into thickest part of fish. It should meet with little resistance.
In a large frying pan, heat grapeseed oil over medium-high heat. Add garlic and sauté for 30 seconds. Add greens, season with a pinch of salt and sauté until warmed through but still maintains some bite, about 1 to 2 minutes.
To serve, divide rutabaga purée and sautéed greens among 4 dinner plates. Top with fish, garnish with green onion and serve immediately.
Drink Pairings